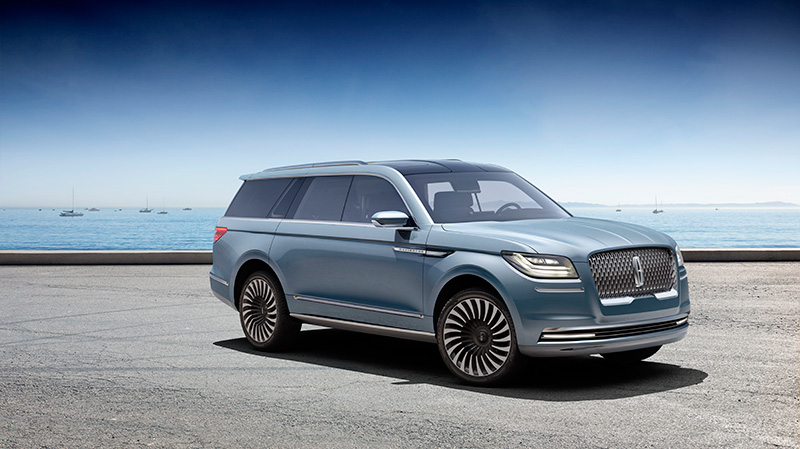 Lincoln invented its huge luxury SUV in 1997, and now is reimagining Navigator for modern clients interested in better performance, more space and further refinement. At 2016 New York Auto Show, Lincoln revealed the all-new Navigator Concept, introducing "quiet luxury" to full-size SUVs.
The massive luxury Navigator SUV offers three steps and gull wings for easy access. The design team drew inspiration from luxury sailboats and yachts when designing the new concept. This influenced everything from the clean, modern lines and Storm Blue paint on the exterior that mimics the grays and blues of sea
and sky, to the teak finishes, custom gear and wardrobe management system found inside.
The Navigator Concept features a 3.5-liter twin-turbo V6 engine delivering more than 400 horsepower and smart new technologies to make this SUV even more sure-footed on different road surfaces and in changing weather conditions.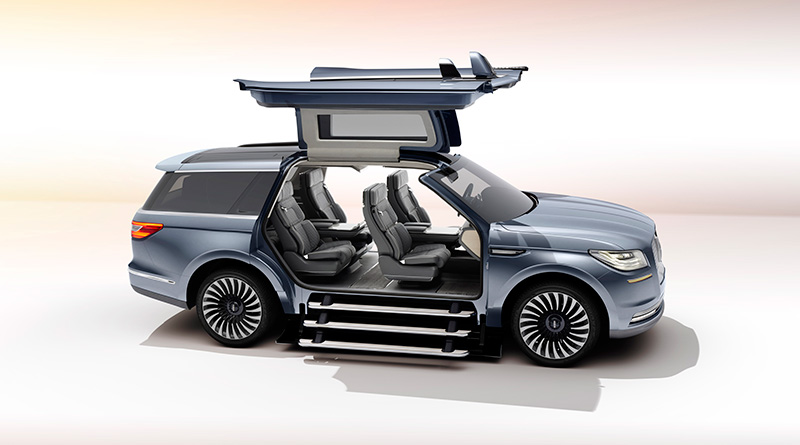 The new model provides the nameplate's most spacious interior ever – a key want among buyers of large SUVs – delivered with a refinement that leapfrogs competitor. The leather-wrapped interior is rendered in a light blue. Six Lincoln-patented Perfect Position Seats adjust 30 ways to best support occupants' different body types. The driver's seat, for instance, includes independent deployable thigh supports for maximum comfort.
A custom wardrobe management system holds gear chosen for a day on the water, while Lincoln's Revel audio system has been specifically tuned to create the highest level sound and visual quality.
All of this is accessed through power gullwing doors and deployable concertina steps. A special lighting sequence welcomes passengers for every journey – a signature Lincoln feature.
The Navigator Concept features Pre-Collision Assist with Pedestrian Detection, which uses radar and camera technology to scan the road ahead. If a collision risk with a vehicle or pedestrian is detected, the system provides a warning to the driver. If the driver does not respond in time, it automatically can apply up to full braking force to help reduce the severity of, or even eliminate, some frontal collisions.
On the road, a lane-keeping system vibrates the steering wheel to alert drivers they are straying from their lane and provides mild steering input to encourage them to steer back toward the center of the lane.In the cabin, head restraint monitors provide passengers Wi-Fi connectivity, allowing them to wirelessly share music and content from personal devices.