BMW Reveals M6 Convertible and Coupe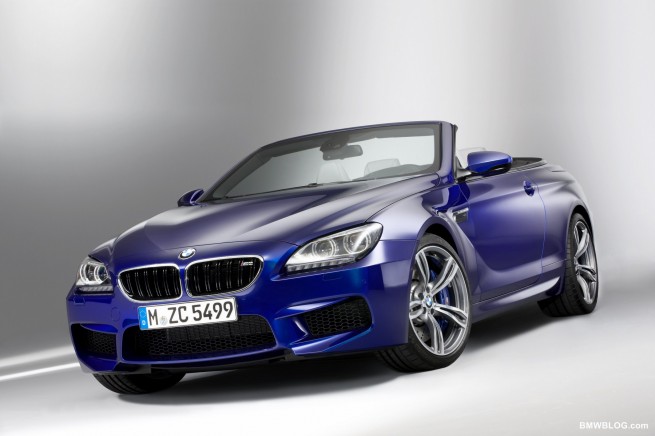 BMW revealed M6 Convertible and Coupe with the first photos and official information. The new 2012 BMW M6 Convertible will be the first to reach US BMW Center showrooms in June 2012. The M6 Coupe is expected make its world premiere at the Geneva International Auto show in March and the M6Convertible is expected to premiere at the New York International Auto Show in April.
The 4.4-liter engine develops a peak output of 560 hp (412 kW) at 5,750 – 7,000 rpm (versus 555 hp at 6,000 rpm for the S63), while its maximum torque of 500 lb-ft (680 Nm) is on tap between 1,500 and 5,750 rpm (versus 500 lb-ft from 1,500 to 5650 rpm for the S63). The rev limiter intervenes at 7,200 rpm (up 200 rpm from the S63 engine).
0 to 62 mph is achieved in 4.3 seconds while the spring to 124 mph (200km/h) takes only 13.1 seconds. Top speed is electronically limited to 155 mph (250 km/h). The new BMW M6 Coupe and Convertible will be the first cars in the history of BMW M to be offered with optional M Carbon-Ceramic brakes (in conjunction with 20-inch M light-alloy wheels as of July 2012 production).
The front-end of the M6 Convertible will stand out among the other M models. The newly designed M kidney grille now bears an M6 badge, an homage to the first generation M6. The grille's black, paired kidney grille slats take their cues from the characteristic double-spoke design of the M light-alloy wheels.
The new M steering wheel comes with two M drive buttons: M1 and M2. The driver can save a sporty configuration on the "M1" button and a track focused setup (with all driver aids shut off) on the "M2" button. The M Drive system in the new BMW M6 allows the driver to adjust no fewer than six parameters: the engine management, the response of the Servotronic steering system, the M DCT shift program, the DSC mode, the responses of DDC and the information in the Head-Up Display.
BMW M6 Convertible:
Acceleration [0 – 100 km/h (62 mph)]: 4.3 seconds,
acceleration [0 – 200 km/h (mph)]: 13.1 seconds,
top speed: 250 km/h (155 mph), 305 km/h (189 mph) with M Driver's
Package),
average fuel consumption: 10.3 litres/100 kilometres (27.4 mpg imp),
CO2 emissions: 239 g/km, exhaust standard: EU5.
http://www.bmwblog.com/2012/02/11/world-premiere-2013-bmw-m6-convertible/