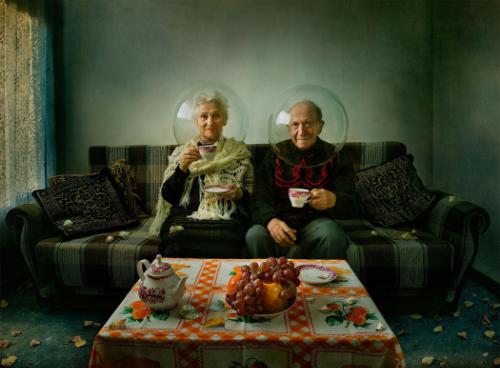 "Elegy of Autumn" photo taken by Dina Bova (Israel) won Nikon Photo Contest 2012-2013. A total of 22,752 photographers from 153 countries and regions submitted 99,339 works in the 2012-2013 competition. This year marked a new record for the largest number of entries in the history of the contest.
Nikon Photo Contest (NPC), previously known as Nikon Photo Contest International (NPCI) and presented by Nikon since 1969, is one of the world's most prestigious international photo contests. It is designed to contribute to the expansion of photographic culture by providing an opportunity for photographers from around the world to communicate and exchange their photographic vision, irrespective of professional or amateur status.
"It is a melody of autumn – a story about elderly couple living together all Life, each in his personal world, each with his own secrets. It's also a story about immigrants living in a tiny apartment, still keeping their old festive clothes and other memorable things from the previous life. It's a story of people who live modest life, but with dignity. It's a story that has both – sadness and smile… In this artwork the spheres serve as metaphors for dissociation from the outside world and even from each other. This work is one of my favorites and very important to me. Its story touches me deeply. So I'm very happy that it was recognized in such a respected competition," commented Grand Prize winner, Dina Bova (Israel).
"Our Judges loved this image. It tells so many stories. It is at once traditional and respecting of the elders set in a classic living room, yet whimsical with the reference to space travel. It points to our future while honoring our past. Indeed deserving of the Grand Prize," said Lead Judge Photographer Chris Rainier.
The Nikon Photo Contest 2012-2013 accepted entries to four categories during the period of December 1, 2012 and February 28, 2013. The four categories were as follows: single photo, photo story (two to five images presenting a theme or idea), photographic video (45 seconds in length), and "Motion Snapshot" (a special category celebrating the new form of imaging expression made possible by the function built into Nikon 1 advanced cameras with interchangeable lenses that combines still images with movie clips).
"Our goal is to foster a growing, global community of photographers creating images that stand apart through their creativity, their ability to move people and their capacity for communication. The Nikon Photo Contest is a forum that brings together people with a passion for photography and an active commitment to bettering their art. Here, photographers of all sorts can acknowledge each other, be stimulated by diverse points of view and thrive through competition," explained Nikon.
"For us at Nikon, this community is a source of great inspiration as we pursue our goal of helping to strengthen the art of photography through innovation and invention as well as through projects and exhibitions, like this contest," added Nikon.
All winning images, including the Grand Prize winner, will be exhibited on the Nikon Photo Contest 2012-2013 Judging Results page.