Naim makes a Statement. For serious audiophiles: The ultimate amplification system.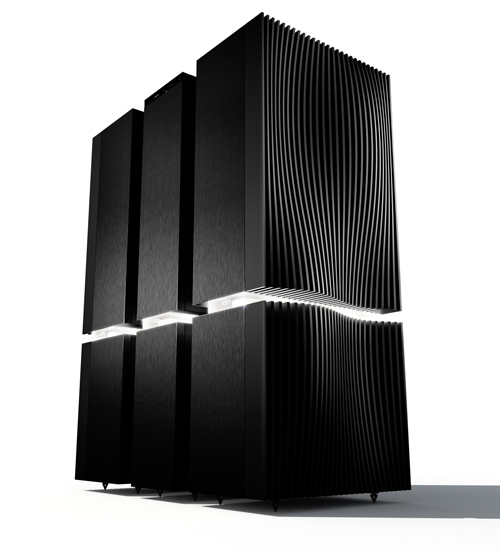 ---
This article titled "Who wants to spend £125,000 on a new amp for their stereo?" was written by Michael Hann, for theguardian.com on Friday 10th January 2014 13.00 UTC
"It's not just for football players and Russian oil barons," says a spokesman for Naim Audio. And that's true. Naim's new Statement amplification system might also be within the price range of hedge fund managers, CEOs of investment banks, lottery winners, anyone who discovers oil in their back garden, and other assorted plutocrats.
The Statement was unveiled this week at the CES 2014 consumer electronics show in Las Vegas – alongside such future necessities as an internet-enabled toothbrush, Bluetooth-enabled jewellery and a GPS-equipped jacket – instantly winning What Hi-Fi's accolade of Star of CES.
And that despite a price tag of 0,000 (the Wiltshire firm will sell it for £125,000 in the UK. A snip, if you ask me), which gets you the NAC S1 preamplifier and two NAP S1 mono power amplifiers. But your spending doesn't stop there. Our man at Naim estimates that to put together a system capable of getting the best out of your statement, you'd be looking to spend around £500,000. For that, of course, you could get your favourite musicians to come and play in your living room, no matter who they are. And if they're not that famous, you could make it a weekly residency.
Oh, and that's still not the end of the spending. "The room is important," the spokesman says, sagely. "People spec and design their rooms, actually. There's no point just putting in your living room – the idea would be to make a room from scratch." Right. Though, apparently, you may be lucky enough to have a spare room with just the right qualities that you can put your system in it, though almost certainly only after having paid for some redesign work.
At this point I could talk you through the technical specifications of the system, but to be honest I simply don't understand any of it (a Cambridge Audio CD player, Denon amp, Project turntable and Mission speakers meet most of my home music needs), so instead I'll offer you some random phrases from the press release. "Massive transformer in the lower section … minimising electromagnetic interaction between components … rated at 746 watts (the equivalent of one horsepower) into 8 ohms and weighs in at 101kg … semiconductors which are typically used in aerospace, military and space exploration applications … the paste used to ensure good thermal conductivity to the heatsink is nano-diamond based."
Don't get me started on the heatsink. Did you know it is cut from a single piece of solid aluminium by a machine that has to be doused with coolant over several hours? Did you? And still your iPod will sound rubbish if you play it through the system (only CD quality, studio quality, or lossless WAV files, I am told, are worth playing through the Statement).
Despite all the technical stuff – and Naim's insistence that the Statement is for serious audiophiles and people who are passionate about music – there's perhaps something telling about both the system's name, and a throwaway remark the Naim spokesman makes about its target audience: "There'll be people who choose to buy it instead of a supercar." And still Naim expects to sell two or three a month.
One last question. Will I be able to get it for £99 in Richer Sounds in a couple of years' time? "No."
guardian.co.uk © Guardian News & Media Limited 2010
Published via the Guardian News Feed plugin for WordPress.