What Wealthy Women Really Want
Both the amount of wealth controlled by women and the rate at which it is increasing are surprising — 95% of women will be their family's primary financial decision maker at some point in their lives, says the Family Wealth Advisors Council, a network of independent wealth advisers in their last study on wealthy women financial needs.
If today women control 51.3%, or $14 trillion, in personal wealth, that figure is expected to grow to $22 trillion within the next 10 years.
Women of Wealth: Why Does the Financial Services Industry Still Not Hear Them? study is one of the most comprehensive ever undertaken on affluent women. More than 550 successful women from 44 states weighed in on money, what they seek in a financial advisory relationship, and the critical issues they now face. The results of the survey suggest that where a woman is on her money journey has every implication for what she needs. Participant age varies, from 30 to over 80, but the average is 55. 70% of Women of Wealth survey participants are married; 14% are divorced, 9% widowed and 7% single. A majority (62%) of Women  of Wealth respondents have a net worth greater than $1 million, and 11% have a net worth greater than $5 million.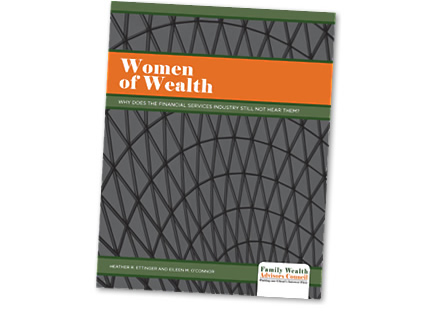 Wealthy Women want their advisers to understand their "life pictures" and "financial journeys" rather than just their investments.
The report also said the women millionaires want their advisers to understand them "in terms of their unique profiles and values," and not to stereotyped by gender or "talked down to." They also want an adviser who "recognizes the importance of an authentic relationship."
"Each successful woman is on a unique journey, and she expects her adviser to travel along with her," the study says. "The woman client will typically choose an adviser who listens well and can respond with case studies or anecdotes that illustrate the adviser's experience with similar clients."
More: wsj | familywealthadvisorscouncil
[adsenseyu1]