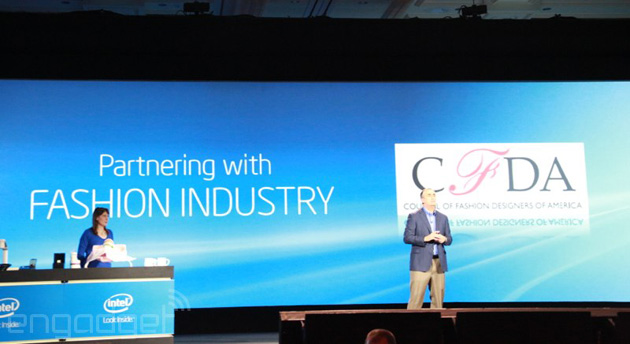 At this year CES 2014, Intel Corporation CEO Brian Krzanich announced collaborations with luxury retailer Barneys New York, the Council of Fashion Designers of America and Opening Ceremony concept store to explore new smart wearable technologies, and to increase dialogue and cooperation between the fashion and technology industries. He also kicked-off the Intel 'Make it Wearable' challenge, a global effort aimed at accelerating creativity and innovation with technology. The effort will call upon the smartest and most creative minds to consider factors impacting the proliferation of wearable devices and ubiquitous computing, such as meaningful usages, aesthetics, battery life, security and privacy.
Opening Ceremony's Carol Lim and Humberto Leon will design a connected piece of wearable technology incorporating Intel's latest know-how.
"Through these initiatives we will combine Intel's leading technologies with Opening Ceremony's design prowess, Barneys New York's track record to identify the next consumer trends, and CFDA's commitment to advance innovation within the fashion industry. Our shared vision is to accelerate wearable technology innovation and create products that both enhance peoples' lives and are desirable to wear," explained Intel's Ayse Ildeniz.
"This is an incredibly exciting and unique opportunity with Intel to bring our design vision to a wearable accessory that collides with Intel's state of the art innovation with fashion," explained Carol Lim (also creative director at Parisian brand Kenzo).
As part of the collaborations, Intel and Opening Ceremony will collaborate in the design and development of a smart bracelet concept based on Intel technology with design direction from Opening Ceremony. Luxury retailer Barneys New York will carry the Opening Ceremony smart bracelet in its stores.
Intel will also work with the CFDA to create a network linking together technology developers and 400 leading US fashion designers.