UltraLuxum revolutionary CXL Trimaran with retractable floats is nearing the shipyardUltraLuxum
CXL: Luxurious, green and inhabitable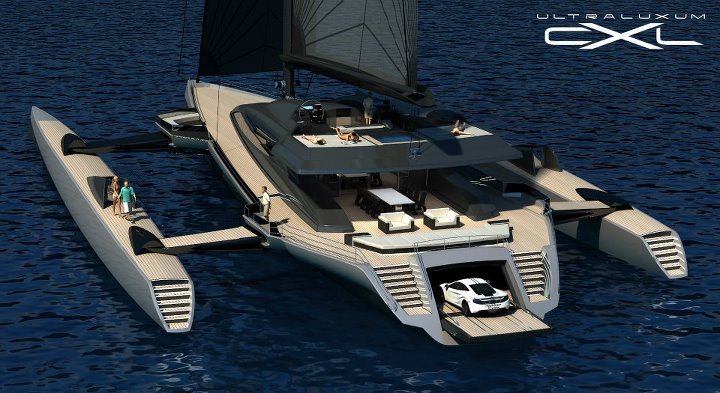 Eco-friendly carbon fibre trimaran UltraLuxum CXL, the variable-geometry luxury sailing yacht launched at the 2011 Monaco Yacht Show, is nearing the shipyard. Imagined by Jean-François Ruchonnet of Monaco based company UltraLuxum, CXL is, actually, the biggest cruising trimaran in the world.
More than 48 meters of carbon fiber associated to advanced naval architectural researches make a modern and innovating multihull which thanks to its variable geometry will feel at ease as well in port as on open sea.
The CXL is the first sailing trimaran of this size to be equipped with folding hull beams. The overall width is going from 23m in sailing confi guration to 11m in harbour confi guration. No anymore problems of room in harbour and still the pleasure of no heeling sailing. The CXL is a three decks sloop rigged trimaran whose design exceeds present super yacht standards. Equipped with all the amenities of a motor yacht with the performance and sensations of a fast sailing yacht, she is capable of exceptional speeds Under power as well as high speed long range cruising.
The luxury sailing yacht demonstrates exceptional styling created by leading multihull designer Jean Jacques Coste of Coste Design & Partners, with modern and elegant lines, which are seamlessly integrated into the vessel's voluminous interior.
This is a yacht built for fast cruising, say its creators. Her sporty appeal and ease of sailing offer an Idyllic means of living in communion with the sea while enjoying the luxury and comfort of an exceptional vessel.
"The project started in 2008, at a time when I was taking a very close interest in big luxury sailboats," he explains. "My idea was to build a multihull that respects the environment, is inhabitable and has retractable floats with the objective of travelling 1,500 nautical miles on reduced consumption. I also wanted to enjoy the great comfort of sailing without listing and to be able to access outstanding locations thanks to a very shallow draft," said the creator of the UltraLuxum CXL, Jean-Francois Ruchonnet – a well known person in the world of watch-making.
The luxury yacht is ecofriendly studied with the use of last technology solar panels in conjunction with the last generation of batteries. In addition, optional Hybrid propulsion system makes this yacht with some of the lowest emission in the industry. In addition the yacht will be built following the requirements of "Wood for Ever" foundation under the patronage of H.S.H. Prince Albert II of Monaco.