The Ferrari-Veuve Clicquot story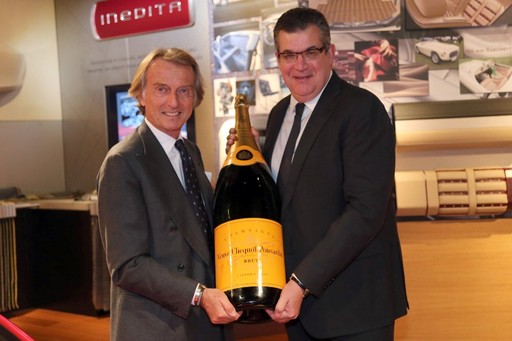 Hotel du Marc, Veuve Clicquot's Private Mansion in Reims was host to Ferrari team, a sign that Luca di Montezemolo, Ferrari Chairman & Jean-Mac Lacave, President of Veuve Clicquot Ponsardin have big plans for the year to come.
Undisputed supercar industry icon Ferrari and the legendary champagne house of Veuve Clicquot announced an exclusive global and international partnership.
"Veuve Clicquot is proud to become the event partner of Ferrari and is looking forward to share its excellence and 'Art de Vivre' throughout worldwide events," said Jean-Marc Lacave, President of Veuve Clicquot Ponsardin.
This year we will see the 2 prestigious brands side by side at mythical classic car events well as Ferrari new model launch and racing shows around the world. Naturally, new "lifestyle events" will be created, and special joint ventures will also cause a sparkling social stir. Coming soon, the pair's design team are innovating extraordinary and celebratory new creations.
"Ferrari chooses its partners exclusively among leading companies, and Veuve Clicquot is with certainty a brand of excellence in the special Champagne World," declared Ferrari Chairman Luca di Montezemolo.
The Ferrari-Veuve Clicquot story has only just begun to be told. Celebrating Ferrari Formula 1 Grand Prix wins in China and Barcelona, the 2 prestigious brands continued to show the fruits of the alliance at the prestigious Monaco Grand Prix last week. So follow the yellow & red.