China has seen an incredible increase in tourism, particularly among luxury travelers. St. Regis luxury hospitality chain is meeting the demand with a new high-end hotel. St. Regis Hotels & Resorts announces the highly-anticipated opening of The St. Regis Shanghai Jingan, marking the renowned luxury brand's ninth hotel in the Greater China region.
Situated on West Beijing Road in the heart of the Jingan District, Shanghai's cultural and business center, The St. Regis Shanghai Jingan is a five-minute walk to the Shanghai Natural History Museum and a short drive to many cultural landmarks, including the famous Jingan Temple; 400-year-old Yu Garden and its centerpiece, the Exquisite Jade Rock; the historic and architecturally varied buildings that line the Bund, which have been a symbol of Shanghai since the 1920s; and the vibrant People's Square and People's Park. Soaring above the city, the hotel guest rooms are located on the 36 to 68th floors of a high rise building with major corporate offices on the 5 to 35th floors.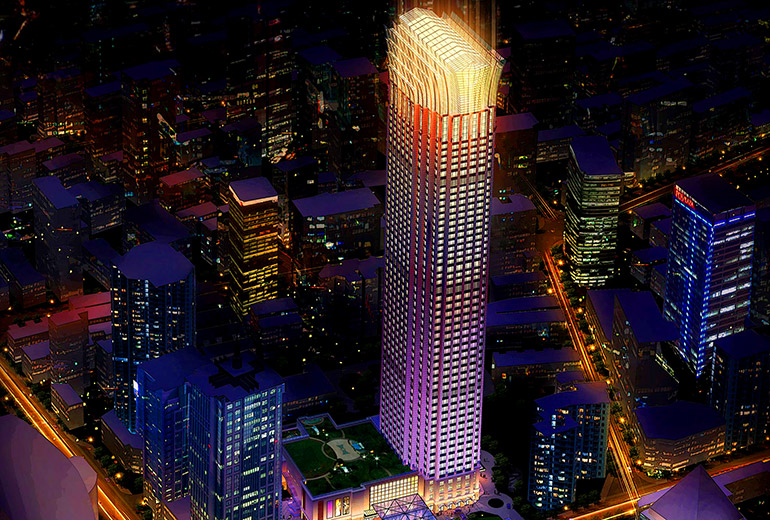 "The St. Regis Shanghai Jingan will redefine the local luxury hospitality landscape by blending the rituals and traditions of St. Regis, such as its legendary butler service, with a design and culinary experience that highlights the history and culture of Shanghai," said Chris Tsoi, General Manager, The St. Regis Shanghai Jingan.
Five glass sculptures by world renowned glass sculptor Dale Chihuly are featured in the hotel's public space, while the hotel's elegant interiors create an oasis of calm by combining traditional English and Chinese palatial styles with elements of Chinese art and culture, such as calligraphy and handcrafted gold foil paintings.
The St. Regis Shanghai Jingan's 436 exquisitely styled guest rooms, including 66 suites, and 55 residences boast sweeping city views, allowing guests to experience Shanghai's energy from the comfort of their own space. The three- bedroom, three-story Presidential Suite spans 650 square meters and is located on the top of the building, featuring a glass ceiling, vast living room, outdoor terraces with panoramic skyline views, full kitchen, dining room, and lounge area.
St. Regis brand's signature Iridium Spa features a range of specialty massages and treatments, an indoor swimming pool and a 24-hour fitness center. Guests of The St. Regis Shanghai Jingan will also enjoy the signature St. Regis Butler Service, a famed hallmark of St. Regis hotels, which offers unparalleled around-the-clock anticipatory service that customizes each guest's stay according to their tastes and preferences.
A good combination of signature St. Regis offerings and local flavors.
Through six distinct restaurants and bars, The St. Regis Shanghai Jingan offers elevated cuisine with featuring local flavor.
Set in a modern Japanese stone garden, Seki-tei features a live cooking teppanyaki station; while St. Regis master chefs at Bespoke will curate seasonal chef's tasting menus and also offer customized menus according to guests' personal tastes and preferences. Guests can also indulge in refined Cantonese cuisine at specialty Chinese restaurant Yan Ting or stop by Social to enjoy brunch, an extensive buffet, and live cooking stations. The Drawing Room features the signature St. Regis afternoon tea every day, and The St. Regis Bar, which in addition to fine wines, rare spirits, champagnes, and handcrafted cocktails, will offer the renowned St. Regis Bloody Mary. The bar will also offer the hotel's local version of the Bloody Mary, the 'Mary Jing', which features unique Shanghai spices and local ingredients such as dried preserved figs infused in Vodka and dried Osmanthus flowers, which are known sweet scent and flavor.