Focus on the Caribbean.
The Caribbean is an exciting and dynamic region that provides an attractive investment opportunity for UHNW individuals.
The Caribbean ultra high net worth (UHNW) population increased by 2.1% last year on the strength of a resurgent regional economy and attractive luxury real estate property markets, which saw sales rising by over 11% globally, according to The Wealth-X Caribbean Wealth & Investment Report 2015.
The report shows that there are over 1,155 UHNW individuals (defined as those with at least US$30 million in assets) living in the Caribbean, more than 67% of whom have relocated from another country. The United States, the United Kingdom and Canada are the top three countries the ultra wealthy have relocated from.
"This study shows that resurgent luxury real estate markets in the Caribbean, and specifically Barbardos, are in prime position to take advantage of long-term growth trends in global UHNW demand for real estate," commented Wealth-X President David Friedman.
The Caribbean has attracted a growing UHNW population, in part because itsreal estate markets present a unique valueopportunity to global UHNW investors. Luxury real estate properties are still selling below their 2008 highs, but hav grown in value over the past year, and look set to continue rising for the foreseeable future.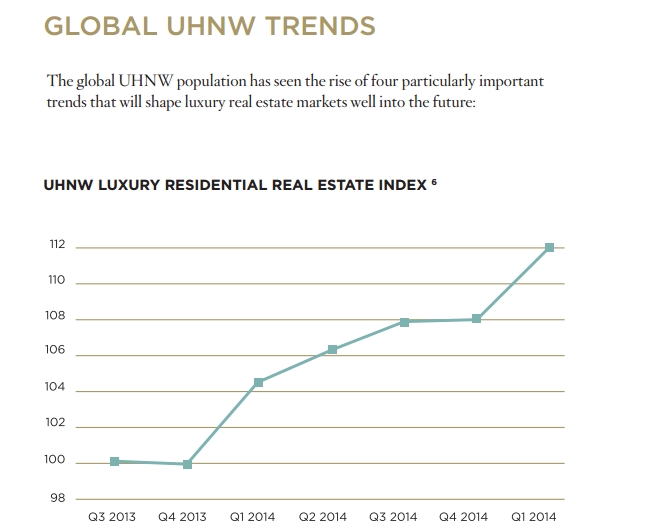 The report also shows that government incentive programmes and new buyers are fuelling interest in the region as a prime residential resort destination. Several Caribbean nations have begun offering programmes to incentivise property buying. Barbados, for instance, introduced a special entry and residence permit in 2014 that allows foreign nationals who invest US$2 million into Barbados real estate to establish residency.
Worldwide, residences owned by UHNW individuals increased in value by 8% in 2014, according to the UHNW Residential Real Estate Index.
As UHNW individuals age and look to pass on their wealth, their need for wealth preservation will grow, increasing the demand for residency in favourable tax climates.
UHNW individuals in China and Russia, while younger and more likely to have self- made wealth, are looking to buy luxury real estate for second homes, favouring economically and politically stable locations.
While Caribbean luxury real estate values remain 10-15% below their 2008 highs, prime residential real estate sales increased more than 10% in 2014.