---
This article titled "Royal Ascot attracts largest global challenge in meeting's history" was written by Greg Wood at Newmarket, for The Guardian on Thursday 11th June 2015 14.16 UTC
Next week's Royal meeting at Ascot will draw the most extensive cast-list of racehorses from around the world in the event's 208-year history, with 20 contenders from outside Europe expected to go to post at the course over the five days of racing which begin on Tuesday.
The scale of the non-European challenge next week is a sign of Royal Ascot's enduring prestige in world racing, with last year's Kentucky Derby winner California Chrome among the high-profile runners arriving to take part. Able Friend, the best horse in Hong Kong, and Spielberg, one of the best middle-distance horses in Japan, are also due to line up for Grade One events, along with the now familiar contingent of sprinters from Australia in the King's Stand Stakes, over five furlongs on Tuesday, and the Diamond Jubilee Stakes over six furlongs four days later.
The accents told the story here on Thursday morning as the connections of several major international contenders talked through their chances at an official media event. None was more distinctive than the midwest twang of Steve Coburn, the part-owner of California Chrome, who will be forced to give up the Stetson that has become his trademark when his horse runs in Wednesday's Prince of Wales's Stakes, perhaps the most interesting and competitive Group One event of the week.
"It's kind of like the Kentucky Derby back in the States, there's a lot of hats and a lot of glamour," Coburn said. "So I'm looking forward to it, it's something I can cross off my bucket list thanks to a horse.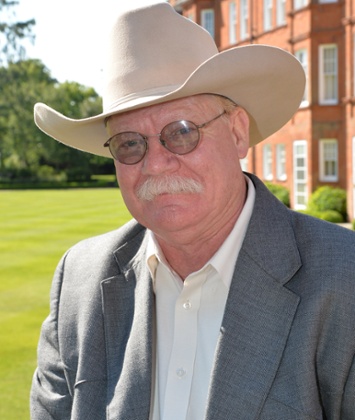 "My wife says it's just for one day so get over it and go with the programme, so I'm going with the programme. I've got fitted for my top hat and tails yesterday, and shoes. I haven't worn shoes since I came out of the army, I've been in boots all my life."
Both Coburn and Art Sherman, California Chrome's trainer, are hopeful rather than confident about the four-year-old's chance next week. As Sherman pointed out: "We're trying a thing that this horse has never done, and I feel he's going to be 12-1 or 15-1 when every time he's run before he's been 8-5 or even money."
Despite his relative longshot status, though, at least a handful of California Chrome's extended fanbase – the "Chromies" – are expected to make the trip to Ascot next week.
"I understand the Queen is a Chromie," Coburn said. "We've got fans from all over the world. When we got back from Kentucky [last May], there were boxes on our front porch with letters from people all over the world. A lot of the letters just had 'California Chrome, Nevada, USA' and they found their way to the house.
"We had them from Trinidad, South Africa, all over the world. It was people who just love this horse and embraced him and it's because two regular guys [Coburn and his co-owner Perry Martin], we did it. We didn't have a boatload of money, and we stuck to our gameplan and it's paid off in quite a tremendous way."
Able Friend, one of the biggest earners in the history of Hong Kong racing, is expected to start second-favourite behind Freddy Head's Solow in the opening race of the meeting, the Queen Anne Stakes. So far unraced anywhere other than the former colony's racecourse at Sha Tin, Able Friend will also attempt to justify his status as the joint top-rated horse in the world in the latest international ratings, published last month.
"He's one of the best horses we've ever trained," George Moore, the son of Able Friend's trainer John, said on Thursday. "He's got the perfect temperament for a racechorse, he travelled over great and he's taken everything in, you can see he's got the perfect mentality. He came straight off the plane and straight into his feed, we didn't have to give him saline drops or anything like that.
"For us to show that he is truly ratings-wise the best horse in the world right now, we have to travel the horse to show it. He's got a very good stride on him, and in terms of the surface, it's going to be good-to-firm which will be perfect for him. We see him as Hong Kong's horse now, and hopefully we can do them proud."
Japan has drawn a blank at the Royal meeting from just a few runners to date, but Spielberg, the winner of last year's Autumn Tenno Sho, one of the country's most valuable and prestigious events, will go to post alongside California Chrome on Wednesday with a realistic chance of recording a historic victory. Super Moon, a runner in the Hardwicke Stakes, is a second string to the Japanese challenge.
"At 2000 [metres, the 10-furlong trip of next week's race] he hasn't shown any limitations," Nobutaka Tada, Spielberg's trainer, said on Thursday. "He is still improving, he has never been disappointing. We don't know how good he is, he could be a much better horse than we expected.
"Christophe Soumillon will take the ride. After the Japan Cup [in which Spielberg finished third from well off the pace], Christophe approached us to ride Spielberg, and he was on the winner [Epiphaneia] in the Japan Cup. He thought Spielberg would be suited to European racing."
Wesley Ward, a regular visitor to the Royal meeting from his base in America and a frequent winner too, could send as many as 10 horses to Berkshire next week, including Hootenanny, the winner of the Windsor Castle Stakes 12 months ago, who is due to line up for the meeting's new Group One event, the Commonwealth Cup over six furlongs on Friday.
Australia, meanwhile, has a leading contender for the King's Stand Stakes in Shamal Wind, who is trained by Robert Smerdon and due to be ridden by Ryan Moore, and high hopes of a big run from Chris Waller's Brazen Beau and Wandjina, the winner of the Group One Australian Guineas in March, in the Diamond Jubillee Stakes.
Chris Stickels, Ascot's clerk of the course, said on Thursday that little rain is expected at the track after a possible thunderstorm on Friday.
"The intention is to start the meeting on good, fast ground," Stickels said. "A mixture of good and good-to-firm would be ideal, letting it get to good-to-firm for Wednesday and then possibly with a little watering to maintain the good-to-firm through to Friday at least. It's been a little dry and cool, but the track's in great shape."
guardian.co.uk © Guardian News & Media Limited 2010
Published via the Guardian News Feed plugin for WordPress.