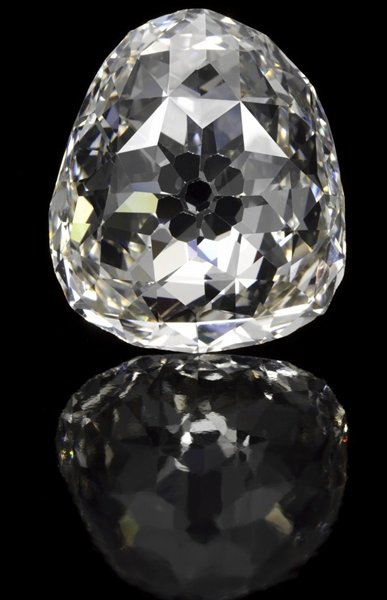 Beau Sancy, a diamond of supreme historical importance and one of the most rare diamonds ever to come to auction, will led Sotheby's Geneva sale of Magnificent Jewelsand Noble Jewels on 15 May 2012.
Passed down through the Royal Families of France, England, Prussia and the House of Orange, the celebrated diamond has been the privileged witness of 400 years of European history. Weighing 34.98 carats, the modified pear double rose cut diamond comes to the market with an estimate of $2-4 million.
Acquired by Nicolas de Harlay, Lord of Sancy (1546-1629), in Constantinople in the mid to late 1500's, the Beau Sancy diamond is most likely to have originated from the mines in south- central India near the city of Golconda, the source of history's best-known diamonds, including the Hope, the Koh-i-Noor and the Regent.
In 1604, the Beau Sancy was bought for 75 000 livres (25 000 écus) by Henri IV and gifted to his wife, Marie de Medici. The Queen of France had long desired the stone, particularly after learning that de Sancy had sold a larger stone, today known as the "Sancy", to King James I of England1. Testament to the importance her Majesty placed on the diamond, the Beau Sancy was mounted atop the crown she wore at her coronation in 1610, as shown in a magnificent portrait by Frans II Pourbus, the Younger, now in the Louvre.
The Beau Sancy diamond will be showcased in an international tour before its auction in Geneva on 15 May 2012.
Established in 1976, Sotheby's Geneva began holding Jewellery and Watches sales in 1980. Today, Geneva has become a major world centre for Jewellery auctions and Sotheby's has held some of the most spectacular sales at its historic Beau-Rivage Hotel location on the shore of Lake Geneva. In November 2010, Sotheby's Geneva set a world auction record for any diamond and any jewel when it sold an exceptionally rare and truly magnificent Fancy Intense Pink Diamond weighing 24.78 carats for CHF 45,442,500 (US $46,158,674). The auction itself realised CHF 103,418,050 (US $105.047,918)—a new record total for a Jewellery auction. Among the famous Jewellery collections sold by Sotheby's Geneva are single-owner sales of the celebrated jewels of the Duchess of Windsor, the Princely Collection of Thurn und Taxis, as well as the jewels from the collections of Maria Callas, Countess Mona Bismarck, Daisy Fellowes and Cristina Ford.