The New Tiffany in Selfridges London.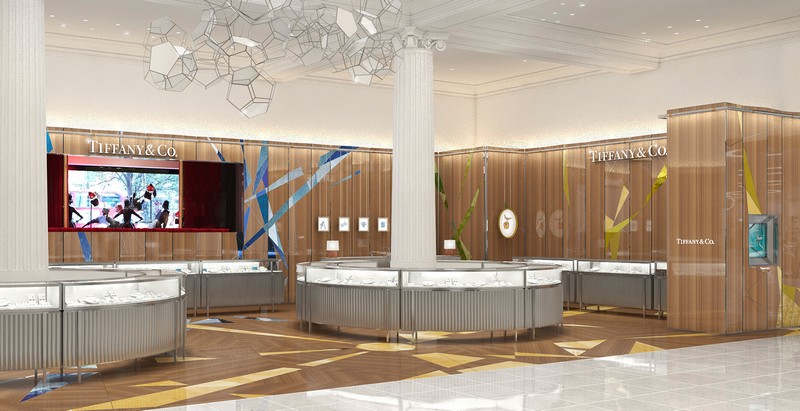 Tiffany London has relocated to a larger, enhanced space in Selfridges London fashion hub.
The space features a unique ceiling sculpture by Saraceno, whose work is informed by the worlds of art, architecture, natural sciences and engineering. This piece extends the exploration of light, refraction and facets that can be found in the design of the Tiffany store in Selfridges. The piece echoes the beauty of Tiffany cuts in gemstones based upon the principles of returning the most spectacular elements of light to the eye.
The 220-square-meter space features a Private Selling Room and a dedicated Bridal Salon where customers can sip champagne while browsing Tiffany jewellery designs.
The store's wood flooring is inlaid with yellow, red, blue and green stones in faceted patterns. The idea of refraction of light through coloured gems is a prominent motif reflected in the space's architecture and material.
The new store will feature exclusive designs from the Tiffany T collection: a black cutout cuff and a ring in sterling silver. These pieces will be available until 31 August, 2015 only at Selfridges London.