Shiseido launches its 140th anniversary with a revolutionary beauty counter at The Bay Queen Street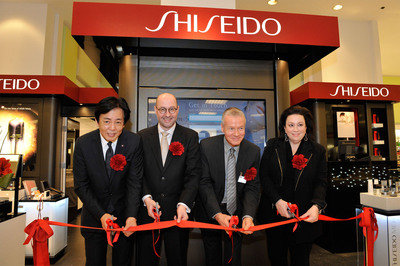 Shiseido launched its 140th anniversary with another global first: an interactive 55″ touch screen Discovery Centre located within a new state-of-the-art beauty counter at The Bay's Queen Street location in Toronto, unveiled during a celebratory gala on January 19.
Using technology developed exclusively for Shiseido, the multi-touch Discovery Centre allows customers to navigate their own path through screens showing the rich culture, luxurious products, and never-before-seen imagery from throughout the brand's 140 year history.
The Discovery Centre is just one element of Shiseido's cutting-edge new beauty counter, a consultation space that stands out from other prestige cosmetics brands with a Japanese-inspired, modern and luxurious design, complete with private spa cabines for two guests—spacious relaxation rooms where Shiseido customers can receive complimentary services like facials treatments and massages.
Source: AFP