Jaguar XKR-S Convertible – the most powerful and fastest convertible Jaguar has ever built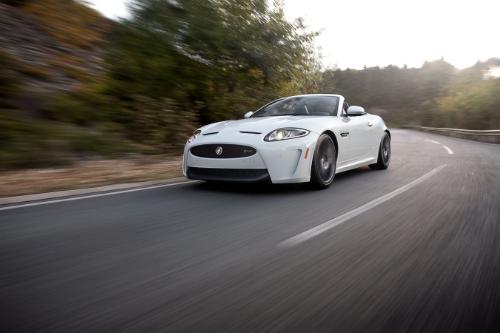 The pinnacle of the Jaguar sporting range – the XKR-S Coupe – is now joined by a convertible body style which offers the same enticing blend of abilities, while offering driver and passenger a heightened connection with their surroundings.
Jaguar XKR-S Convertible embodies all the characteristics that have always defined legendary Jaguar GTs – explosive performance, precise handling, relaxed comfort and discreet luxury – while taking Jaguar into a new performance level. The new Jaguar XKR-S Convertible sits at the pinnacle of the XK range, which now consists of XK, XKR and XKR-S derivatives in coupe and convertible body styles. The XKR-S Convertible receives the performance, dynamics, design, and interior upgrades originally introduced on its coupe sibling to create the fastest ever open-top Jaguar GT.
Jaguar XKR-S Convertible at-a-glance
* The XKR-S Convertible is the most powerful and fastest convertible Jaguar has ever built
* Supercharged V8 engine produces 550 hp and 502lb-ft of torque
* Top speed of 186 mph and 0-60 mph in 4.2 seconds (0-100 kmh in 4.4 seconds).
* Performance Active exhaust enables higher power and torque and gives the XKR-S its own distinctive soundtrack
* Lightweight aluminum architecture provides high torsional rigidity
* Revised front and rear suspension means increased agility, precision and control without sacrificing comfort
* Uprated Adaptive Dynamics system allows the enthusiastic driver to safely exploit the exhilarating handling
* Styling changes developed with Computational Fluid Dynamics to reduce lift and maximize aerodynamic stability
* New front bumper design with wider, lower air intake, carbon fiber air splitter and twin side nacelles
* New rocker sills smooth the horizontal airflow and emphasize the 0.4-inch reduction in ride height
* Unique rear wing with a carbon fiber insert and a rear apron ensure balanced aerodynamics front and rear
* Convertible top opens and stows in just 18 seconds at speeds up to 15mph.
* 2012 model year production of the Coupe version, introduced at the Geneva show, has already sold out;
* Only 25 examples of the 2012 model year XKR-S Convertible will be sold in the US;
[adsenseyu1]
XKR-S Coupe