Raptor Turboprop Kit Aircraft – the most spacious GA aircraft with a 62″ wide cabin.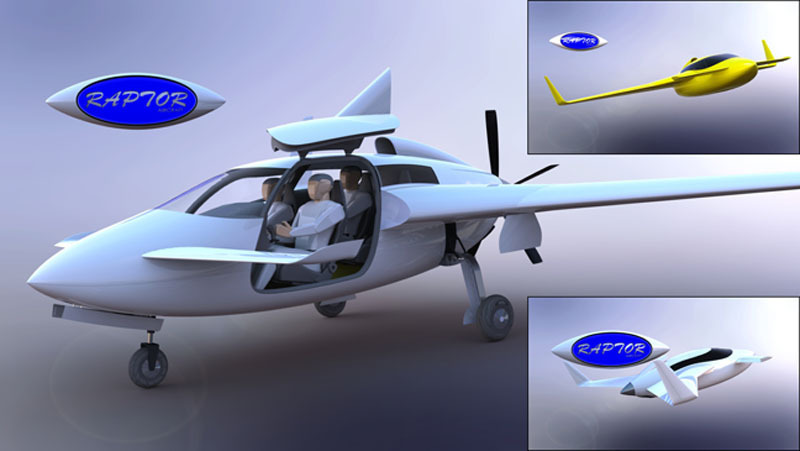 Raptor Aircraft introduced an all new canard aircraft design to be provided as a composite, experimental kit built aircraft able to comfortably seat 4 or 5 people and cruise at 300 knots. This pressurized aircraft has an initial kit price of $80,000. A completed Raptor will cost in the vicinity of $250K – $300K.
Compare the Raptor with a Cirrus SR22 that costs 50% more and has far less cabin space and half the performance. Or compare with a Lancair Evolution or Epic LT that both provide similar performance but cost 4 or 5 times as much and also have far less cabin space than the Raptor. The Raptor will provide the most spacious cabin at a reasonable cost while achieving about 16 miles per gallon on cross country trips.
Raptor Aircraft is presently testing the waters to see how much demand exists for this new design. Initial indications are encouraging and once the demand is proven, kits reservations will be available and the construction will begin on the component molds. Construction of the first aircraft will begin soon after the first molds are completed.
It is estimated that the first aircraft will be flying by September 2014 with the first customers to start building their kits soon afterward.
With a cabin width of 62″ there is absolutely no other GA aircraft that even comes close to providing this amount of space. Pilots from 5′ to 6'6″ tall will feel just as comfortable piloting the Raptor. The same amount of space also exists for passengers sitting in the back seats. For comparison, the Raptor is just as spacious as a 7-series BMW. Finally, automotive spaciousness, comfort and luxury in a personal aircraft.
Extensive flow modeling and Area Rule analysis has been done during the design phase to ensure the lowest possible drag signature. Coupled with either an Allison/Rolls Royce M250 series engine or a Pratt and Whitney PT6A the Raptor will comfortably cruise in the flight levels at over 300 knots true airspeed while burning between 22 and 35 gallons of jet fuel per hour depending the chosen power setting. Ceiling is set to 27,000 feet due to RVSM restrictions.
Fuel capacity is initially set to 133 gallons with an option for 160 gallons allowing for a range of up to 1500 nautical miles. Gull wing doors allow easy car-like access to the cabin. No more having to ask your spouse to climb up on a wing to enter the aircraft.