Land Rover's tailor-made Defender for Paul Smith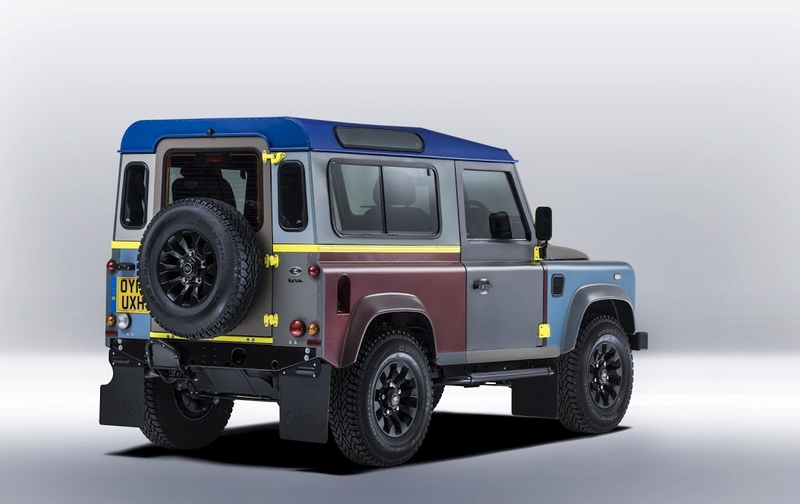 At the end of 2015, Land Rover will make way for a new off-roader that can meet the latest crash test safety and emissions legislation. The latest project in a series of special models and events marking the iconic SUV's final production year is a tailor- made Defender for Paul Smith.
A Defender fan and owner, Sir Paul Smith, collaborated with the company on a bespoke special edition. The result can now be seen at Paul Smith's Mayfair shop in London.
There are 27 different colours used on the exterior panels, all of which were chosen by the British fashion designer.
"I wanted deep rich colours, but at the same time, I wanted them to work together yet be surprising," said the designer about taking inspiration from the British countryside, as well as colours historically seen on Defenders used by the Armed Forces.
In order to achieve the look he wanted, Paul gave the Land Rover's Special Vehicle Operations team a set of Pantone colour references, which were then mixed specially for this vehicle.
Further adding to the vehicle's bespoke design, Paul worked with Land Rover to ensure that the interior stayed true to his vision. "This is a complete one-off; I wanted to give this Defender a feeling of luxury, so I used a mix of leather and fabric for the seats. I actually used the fabric that I design for Maharam, the American upholstery company. The vehicle features lots of special Paul Smith touches.
"Inside, black leather contrasts against blue stitching and there are lots of little hidden details throughout. For example, there is an image of a set of keys printed inside the glove compartment. Then there is a hand-painted bee on the roof, which is another little tongue-in-cheek reference to the countryside and the heritage of the car. Also, the traditional Defender clock has been replaced with a Paul Smith fascia. My designs are known for their attention to detail, so I didn't want this Defender to be any different.
"I felt it would be a fitting tribute to the iconic Defender, that one of Britain's most distinguished designers worked with the Land Rover team to recognise his creative vision," added Gerry McGovern, Design Director and Chief Creative Officer of Land Rover.
Along with the special Paul Smith Defender, Land Rover has announced three limited edition Defenders for 2015: the Autobiography, Heritage and Adventure models.