Paul Smith's bright and breezy spring/summer '18 collection for men and women brought an air of positivity and optimism to Paris Fashion Week. Orange, purple, red and yellow dominated the classical and playful Paul Smith fashion show in Paris.
Irreverence is injected with Japanese fish packaging graphics on cross-body box bags, ties, shirt pockets and more. As an after hours companion to the Hawaiian prints, a midnight beach scene is yet another strong graphic from a collection overflowing with bold prints. The Paul Smith spring/summer '18 collection will begin to arrive in shops and online from February 2018.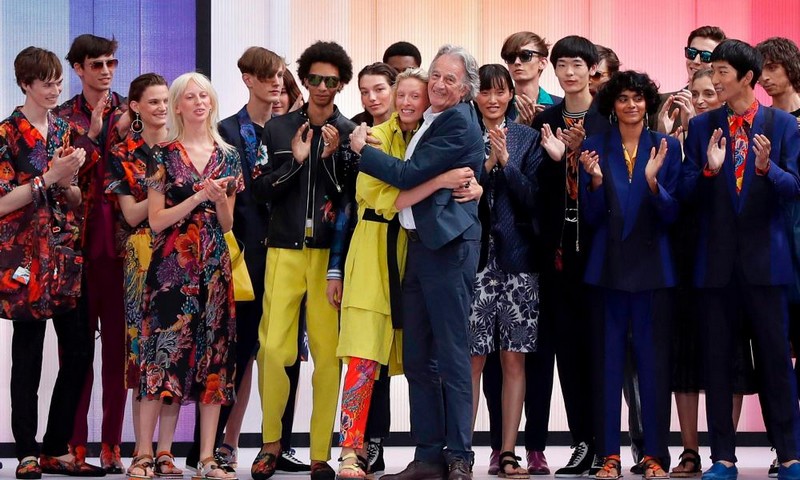 "Female and male models appeared at the same time, some wearing corresponding designs – a man and a woman wore similar Prince of Wales suits at the start of the show. Smith's strengths are his tailoring and his sense of colour. Both were shown off here," says theguardian.
Sunny Hawaiian prints define the new season for men and women. The prints look back to one of Paul's early visits to New York in the 1970s. After returning home with trunks filled with Hawaiian shirts sourced from the thrift shops of SoHo Paul decided to design his own floral shirts, which fast became a design signature.
Continuing the Hawaiian theme, aquatic floral motifs are embroidered onto the satin lapels of tuxedos, hand-painted on leather and appliquéd onto tote bags. The ocean print also makes an appearance on technical outerwear, bringing modernity and functionality to the collection.
With tailoring a core part of every Paul Smith show, this season sees a nod to '80s pieces from the Paul Smith archive, with notched lapels, low break points and squared shoulders on jackets. For women, tropical flowers are reverse printed, appearing sun-bleached on the outside but in full colour on the inside.
"In December 2015, it was announced that the business would be streamlined. Once the business had 12 collections, now there are two – Paul Smith, the high-end collection as seen on the catwalk, and PS by Paul Smith, which has cheaper outfits. This is an attempt to stem falling sales; the group turnover was down by 8.4% when the change was made. The most recent figures have yet to indicate whether the move has worked. Operating profits fell 63% to just under £4m in 2016, put down to a smaller wholesale customer base and shrinking markets in Asia beyond Japan," added theguardian.