---
This article titled "Party dressing rules: leather is out, glitter is in" was written by Jess Cartner-Morley
, for The Guardian on Tuesday 25th November 2014 18.11 UTC
1 The party mood is moody
The mood music of Christmas 2014 is a little grumpier than it has been over recent years. For instance, this year on social media it's OK to be sarky about department store Christmas adverts again, after several years in which it was a major social faux pas to be anything except beamingly thrilled by all things Christmassy. It's not that we've gone off Christmas, it's just that we've moved on from the rictus-grin, everything-is-so-bleak-but-CHRISTMAS-IS-PERFECT narrative. For the first year in ages, models in party-themed fashion shoots are not smiling and carrying piles of glossily wrapped presents. On your moodboard instead is Cara Delevingne (above) in the Topshop Christmas campaign, looking sulky and practising her football headers on a disco ball.
2 It's chic to cover up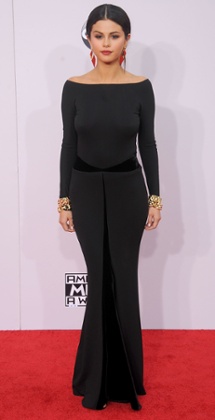 Kim Kardashian, who in her day job goes completely nude accessorised with a champagne glass, covers up for parties. Her go-to evening look is a turtleneck, nude-toned, super bodycon dress in jersey or latex. OK, so we probably can't take Kim too literally, as either a workwear or partywear role model. But what we can take from this is that your party look might well be more covered-up than your day look, these days. Traditional wisdom advises you bare your shoulders when you wear a long dress, but long looks a lot more modern when unexpectedly unrevealing. Think Morticia Addams – so much more chic than Red-Carpet-random. It's catching on with the younger generation: Selena Gomez, she of cheesy-teen-star fame, wore a collarbone-to-anklebone black number for the American Music Awards red carpet.
3 Winners wear gold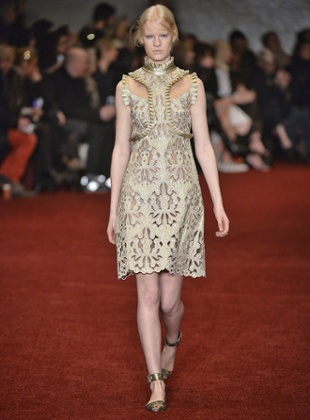 Red? Too literal. White? Too pristine and pure and sugarplum. This season's party colour is gold, which has impeccably Christmassy pedigree all the way from the Three Kings to Ferrero Rocher wrappers. The moodiness of this season's partywear lends itself to dark colours over bright, just as it favours scaly sequins over cosy cashmere. But gold works well, being festive but with a touch of mystery. Gold dresses appeared in lots of this winter's catwalk collections, often with a fairytale or romantic backstory: Sicilian Little Red Riding Hood at Dolce & Gabbana, Bardot-channels-Romanov-exile at Erdem. Look for rich, burnished golds the shade of buried treasure, rich brocade textures, and a soft burnished glow. As always this season, dress for vodka shots, not mulled wine: think black ankleboots and lots of eyeliner.
4 Leather is for losers (but fake fur is fabulous)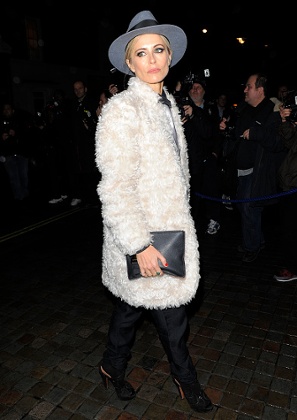 The whole raison d'etre of articles such as the one you're reading now is to help you avoid the ultimate pitfall of party dressing, which is looking like you haven't been out of the house since last party season, and therefore have Got It Wrong. Absolutely nothing wrong with spending 11 months on the sofa watching box sets, obviously. But a lot changes in a year, so in case you've missed it, I should point out that leather trousers are no longer rock'n'roll, even in a tongue-in-cheek way. As recently as 2013 they could pass for after-party with a bottle of Jack Daniels; this year, they are All Bar One with a third large glass of Chardonnay. And that's much less of a good look. I realise this won't be a popular message, but hey – don't shoot the messenger. On the plus side: fake fur is totally happening still, especially when worn with a touch of Royal Tenenbaums quirk.
5 Taxi shoes are over

It took us 10 years, but we got there in the end: fashion is officially over the shoe with the 45-minute pain threshold. At Saint Laurent – the label that dresses the coolest, wildest kids – this year's party shoes were glitter boots with a short, stocky heel. Meanwhile, the high-heel hardcore have discovered the stiletto-wearer's best-kept secret, which is that a shoe that straps across the front part of your foot is infinitely more comfortable than a court. This is counterintuitive – a classic court looks simple, and therefore wearable, but the kind of shoe that laces up the front of your foot not only looks infinitely sexier, it is easier on your feet. Trainers are finally making headway as a party option, too. Trainers with a short dress is an undeniably tough call, if you are not Jourdan Dunn or Kirsten Stewart, but with the rise of the party trousersuit (see: Jessie J looking fabulous in ivory Prada, at the American Music Awards) comes the opportunity to get those trainers out. (Put a pair of leopard-print Saint Laurent sneakers on your Christmas list now.)
6 Jumpsuits are still happening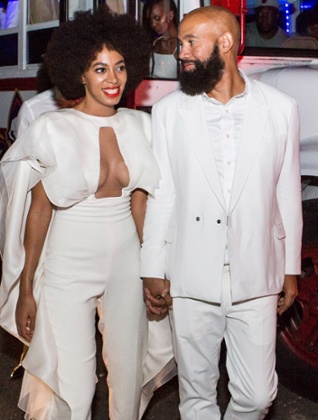 Remember when jumpsuits were first a thing, a couple of years ago, and we all thought they would be a flash-in-the-pan, like the pink coat or the wedge trainer? Here we are, with the pink coat and the wedge trainer dead and buried, and the jumpsuit still going strong. The appeal of the jumpsuit is primarily an attitude thing: it instantly makes you feel sassy in a Beyoncé/Solange kind of a way. Also, it's as easy as a dress but you feel less exposed, and you don't have to agonise over the tights/no tights issue. (For the record: no tights. No one ever died of cold ankles.) Now that the jumpsuit is ubiquitous on the shopfloor, the trick is making it look standout: for that, your style icons are Marie Helvin and Jerry Hall, working the sassy-jumpsuit look nearly 40 years ago (and definitely having a good time at parties).
7 When you want to have fun, start with your bag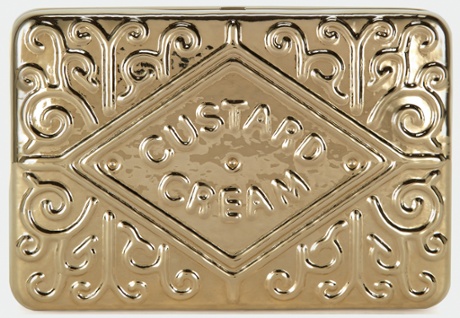 If there's one piece that will update your look in seconds, it's a really silly bag. This is not a new concept – Lulu Guinness has been making crazy clutches for decades, and this season has a rather fabulous lipstick clutch – but the most buzzed-about versions of the look this season are by Anya Hindmarch (the Custard Cream Clutch could put Scrooge in a jolly mood) and Moschino. The novelty handbag is to December parties what a pair of statement sunglasses is to your holiday wardrobe: the minimum-effort piece that turns up the volume. Now that the contents of your bag have been slimmed down – remember when you used to take an A-Z and a camera on nights out? – the bag is just for fun. And it looks it.
guardian.co.uk © Guardian News & Media Limited 2010
Published via the Guardian News Feed plugin for WordPress.