---
This article titled "Oscar de la Renta at New York fashion week – sumptuous gowns and espadrilles" was written by Hannah Marriott, for theguardian.com on Wednesday 16th September 2015 09.52 UTC
Oscar de la Renta – who died from cancer at the age of 82 last year – was one of the best-loved designers in American fashion. Thanks to high-profile fans, from Hillary Clinton to Sarah Jessica Parker and Amal Clooney, his aesthetic became known well beyond the realms of those who could actually afford his designs. The brand came to represent the very top of American society: neat skirt suits for first ladies and business leaders; swathes of taffeta and silk for celebrities on the red carpet.
His successor, 48-year-old Brit Peter Copping, presented his second collection for the brand on Tuesday night. For the main part, he stuck to the de la Renta template, with a few subtle subversions. The palette was unusual, ranging from the flamenco dancer combination of ruby and black to off-key shades of sherbet and pistachio.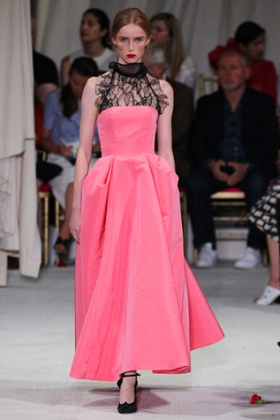 Along with sumptuous silk gowns and prim belted jumpers over pencil skirts that would suit a senator on the campaign trail, there were some surprising touches: a transparent crochet skirt and top in red, an eccentrically bobbly, multicoloured fur coat, and evening dresses with high-necked panels in frayed black lace, bringing a witchy, Victorian note to otherwise traditional gowns. Half of the models wore heels. The others – who looked by far the most modern and comfortable – wore flat, embroidered espadrilles and walked with a swagger.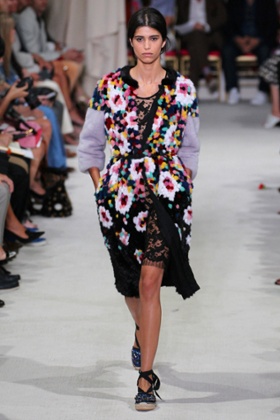 Copping's arrival at the brand was part of a succession plan that had been in process since 2006, when de la Renta discovered he had cancer. He personally chose Copping – then creative director at Nina Ricci after stints working for Sonia Rykiel and Louis Vuitton – to replace him and had planned to work alongside him for a couple of seasons before handing over the reins. Instead, de la Renta died just a few days after Copping's appointment was announced and Copping's first collection had to be produced immediately. He has said that at the time the company – much of which is staffed by de la Renta's family – was "a house in mourning … it was hard for people to see someone come in and sit in Oscar's office."
Presumably, Copping had a little more time and headspace to produce this, his second collection, which was sumptuous and packed with ravishing detail. Crucially, it continued to tread the difficult line between remaining loyal to de la Renta's vision and creating something new for the fashion industry to get excited about.
guardian.co.uk © Guardian News & Media Limited 2010
Published via the Guardian News Feed plugin for WordPress.