Manuela Paul-Cavallier's gold leafed bottle for Opium fragrance.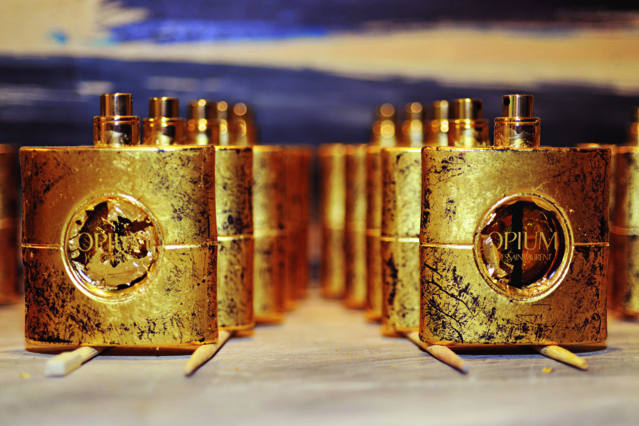 Paying homage to China and Eastern exoticism, Yves Saint Laurent luxury house unveiled a very limited gold leafed bottle for Christmas Opium fragrance. The precious perfume bottles were covered in pure gold by gilding artist Manuela Paul-Cavallier. Yves Saint Laurent has produced just 50 numbered bottles in its Opium L'Objet Rare limited edition, which previously had a gold-colored bottle for a collector's edition.
The thin gold layers let the collectors see the black rope that has long symbolized Yves Saint Laurent's Opium.
"Opium represents the embodiment of a dream of irresistible beauty; femininity in all of its enchanting and elegant beauty (…) I created this world like a journey where charm and sensuality are combined with gold, transparency, and fluidity, just as in the perfume," said Manuela Paul-Cavallier.
"It's a great experience to work with such a prestigious house. The creation of Opium L'Objet Rare is built around a team led by the elegance, the happy excitement of creation, the efficiency and the requirements of a such tailor-made project. This is not a product that came out of this collaboration but an artistic creation born of a beautiful human history, between a great French house and the artist I am," added Manuela Paul-Cavallier.
For this holiday luxury edition, the fragrance formula remained unchanged, combining bergamot, mandarin, jasmine and carnation extracts, over base notes of vanilla, vetiver and amber.
Each Yves Saint Laurent Opium L'Objet Rare bottle is priced at €2,000 (around $2,700).