See which Octane builds tooke the bragging rights. The winning bikes of 2016: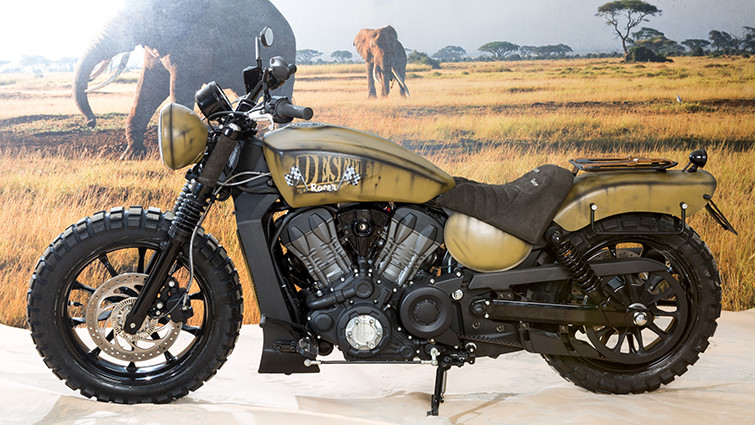 Victory Motorcycles, the manufacturer of American-made motorcycles with V-Twin engines – custom cruisers, classic baggers, luxury touring and electric motorcycles, announced the winning bike of the Operation Octane contest.
Victory Motorcycle dealers from around the world competed to build the best custom Octane on the planet. After 3 weeks of online fan voting, these are your champions. Congratulations to the 2016 Operation Octane winners!
The 2017 Victory Octane has a high revving liquid-cooled 60-degree V-Twin with four-valve heads and dual-overhead cams making 103 horsepower and 76 foot-pounds of torque. Its engine was born out of the motor used in the Project 156 racer for the Pikes Peak International Hill Climb (PPIHC).
Octane is now available in four colours – Gloss Black, Matte Super Steel Gray, Matte Pearl White and Gloss Black with Graphics.
The winning bike in International markets was Desert Racer built by Iwan-Bikes in Germany.The winning bike in North America was Evil Ethel built by Strokers Dallas. The runner up bike in International markets was Grifter (built by Brisan Motorcycles in Australia) while King Octane (built by Coastal Victory in Myrtle Beach USA) took the runner up spot in North America.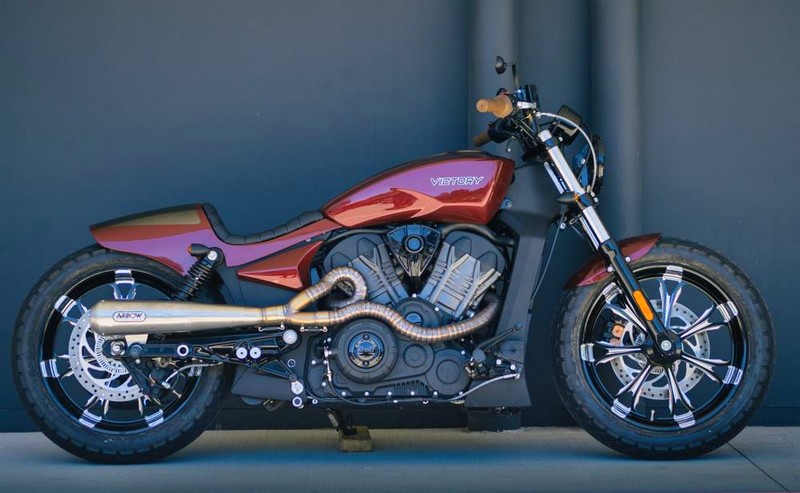 "We won! A thousand thank you's to all guys voting for us. We really won! International Champion of the Operation Octane contest. The Desert Racer has special knobby tyres, a low handlebar, a metal radiator protector, off-road footrests and a real leather seat make you ready for hard rides. The front suspension is protected and the rear fender is special designed for muddy roads. The paint job was all by hand by airbrush; it's a real military colour. We also added throw-over-bags too to finish the look," said Bernhard Peintner, the Dealer Principal at Iwan-Bikes in Germany, who made
Desert Racer.
"We've been associated with the Victory brand since the beginning. Building Grifter was a heap of fun for the team and allowed us to take the Octane in a totally new direction. The finished bike is already creating enormous interest in the showroom," commented Clint Davis, the Dealer Principal at Brisan Motorcycles in Australia, who made Grifter motorcycle.
"Our goal was to create a motorcycle that was still recognisably an Octane, but meaner, leaner and more eye catching than the standard bike. It also needed to sound fantastic, be great fun to ride and turn heads wherever it goes. The resulting build combines a hand-made tail section, repurposed Arrow exhaust with lobster back headers, metallic cherry and graphite paintwork, 18″ Performance Machine wheels."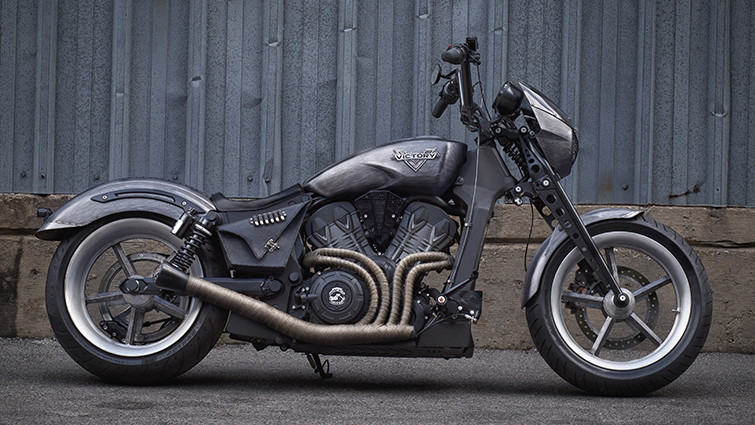 North American Champion Strokers Dallas said the following about Evil Ethel: "Take a mean bike and make it meaner. That's the vision we had in our mind for our evil Victory Octane that we call Ethel."
"Keeping with the Victory brand tradition, we added fenders from a Victory Kingpin (modified to fit), had our painter (Rusty Nash) add a SIC Custom paint job and topped the build off with a Ness Intake and Bassini 2-into-1 Exhaust," said North American Runner-Up Coastal Victory about King Octane.