A race to remember
The Rolex 24 at Daytona 50th Anniversary Heritage Display – Bringing Racing History Back To Life

For Daytona 50th Anniversary Heritage Display, Daytona International Speedway (DIS) decided over a year ago to search the world over for every car that ever won, what we now call the Rolex 24 at Daytona, and transport them to Daytona Beach, Florida.
Of the 45 cars that had won at Daytona almost half were easily located because they had been featured in automotive publications, raced in historic events or ensconced in automotive museums. Locating the rest would require some good old-fashioned detective work.
In the end 29 historic cars were assembled at the 2012 Daytona 24 Hours on January 26 – 29 for a once-in-a-lifetime reunion of vintage racing machines. The cars that didn't show or couldn't be located are a story unto themselves.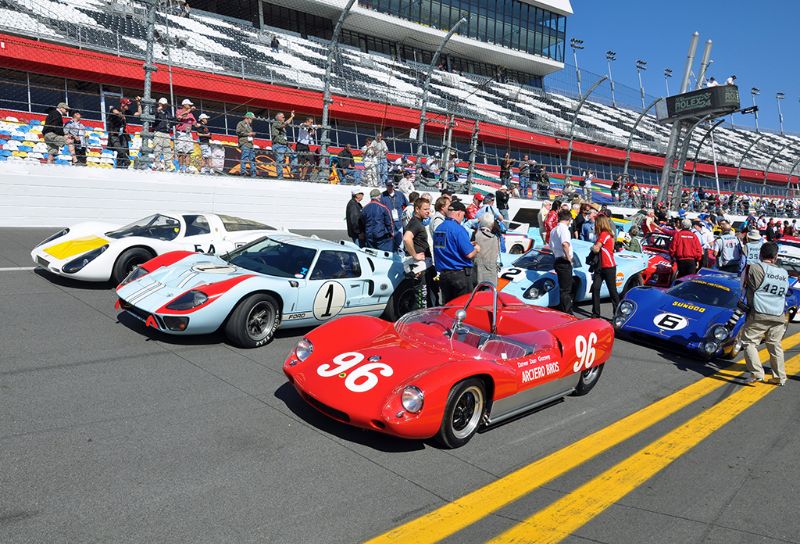 The owners of some of these historic cars just didn't want to be bothered. The Nissan R91CP that won Daytona in 1992 was in the Nissan museum in Japan and would not be coming. The Ferrari 333SP couldn't be located even after the Speedway issued a worldwide alert for the car. In fact not a single one of the five winning Ferrari cars made it to Daytona for the reunion, a real disappointment for Ferrari fans. A couple of the cars didn't make it because they no longer exist.
On race day (Saturday the 28th) the vintage cars were brought to the track for a 50th anniversary photo session at the start-finish line. This would be followed by the cars doing several laps around the track with some being driven by legendary drivers like Brian Redman, Bobby Rahal and Dario Franchitti. More info and photos sportscardigest.com