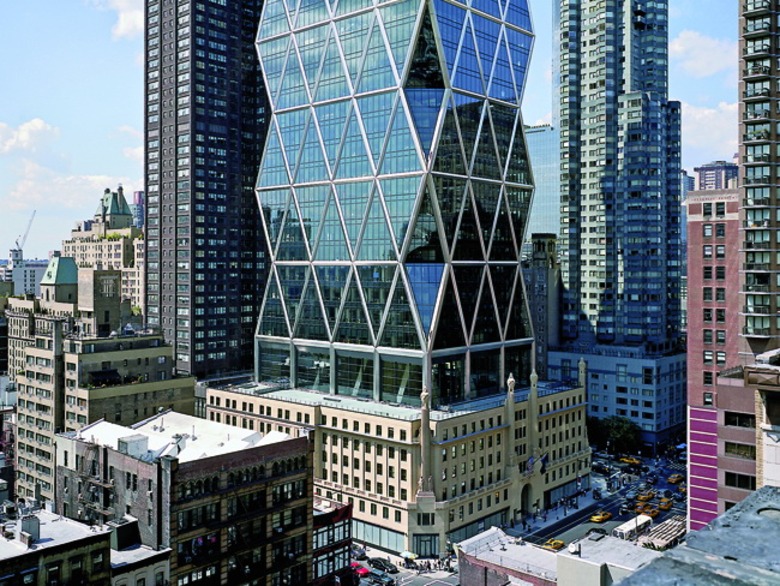 ---
This article titled "Norman Foster: 'I have no power as an architect, none whatsoever'" was written by Rowan Moore, for The Observer on Sunday 22nd November 2015 09.00 UTC
"Do you believe in infrastructure?" asks Norman Foster, with challenge in his voice. He does. Infrastructure, he says, is about "investing not to solve the problems of today but to anticipate the issues of future generations". He cites his hero, Joseph Bazalgette, who, in solving Victorian London's sewage problems, "thought holistically to integrate drains with below-ground public transportation and above-ground civic virtue".
Foster is delighted that Britain now has an infrastructure commission, chaired by Andrew Adonis, which he says gives the opportunity to plan in 30-year cycles and remove the politics from infrastructure. He will expound these views this week at the Urban Age 10th anniversary Global Debates, Urban Age being the LSE's Deutsche Bank-sponsored series of conferences in which high-powered and highly powerful people travel the world exchanging views on city building.
Statistics spin out of him about sustainability. "If you take the carbon footprint of London, that's one seventh of that of Atlanta, so there's a relationship between density and emissions. The whole climate change issue, which many would argue is about the survival of the species, comes down to urbanism.
"When I was in Harvard recently, I said that each of us in this room, the energy that we consume in one year would equal the energy consumed by two Japanese, 13 Chinese, 31 Indians and 370 Ethiopians. So you start to take the relationship between energy consumed by a society and infant mortality, life expectancy, sexual freedom, academic freedom, freedom from violence. So those societies that consume more energy have more of those desirable qualities, so all those issues are inseparable from the nature of the infrastructure." The connections between these points are not always clear, but the argument seems to be that better use of energy through better infrastructure will enable more people to live better.
Of his own work, Foster says that many of the most important projects are not what are normally considered buildings, but things such as the Millennium Bridge, the pedestrianisation of Trafalgar Square in London, the Millau viaduct in southern France and the remaking of the Marseille waterfront. More statistics: "Millau cut out five-hour traffic jams, which meant that the saving in CO2 from the 10% of traffic that is heavy good vehicles had an effect equivalent to a forest of 40,000 trees."
He has campaigned vigorously for the Thames Hub, a new airport in the Thames estuary with an associated network of huge ambition: an orbital railway around London, a flood barrier, tidal energy generation. He is profoundly disappointed that his plan is likely to be rejected in favour of an expanded Heathrow: "The reality of a hub airport is that you can never ever do that at Heathrow. If you do that at Heathrow now you can absolutely guarantee that we will still be pedalling furiously to stand still. You can never accommodate long-term needs there."
But given what he just said about sustainability, should we be expanding airports at all? "Do you eat meat?" he asks scathingly. "You're probably going to have your hamburger in spite of the fact that you're going to make a much greater impact than any travel." Air travel, he says, "compares well statistically with the amount of methane produced by cows and the amount of energy and water needed to produce a hamburger".
"The reality is that all society is embedded in mobility. You're going to take that flight. You'd be better to take the flight out of an airport that is driven by tidal power and which uses natural light, and which anticipates the day when air travel will be more sustainable." He talks of solar-powered flight and planes made of lightweight composite materials.
It could also be asked what is the role of the architect in what is generally the province of engineers, planners and politicians. Around us is evidence of his practice's apparent potency – towers in China and India, a model of the giant circle, one mile in circumference, which will be Apple's new headquarters, images of a concept for habitats on Mars – but Foster says: "I have no power as an architect, none whatsoever. I can't even go on to a building site and tell people what to do." Advocacy, he says, is the only power an architect ever has.
To write about Foster presents a particular challenge to an architecture critic. The scale of his achievement is immense and he has created many outstanding buildings. A wise man recently pointed out that if Foster had only built his 20 or 30 best works, critical admiration would be virtually unqualified. It is largely because his practice has designed many more projects than this that he sometimes gets a bad press. But would it really have been better if he had confined himself to a boutique practice in order to preserve his architectural purity?
It can seem peevish and petty to question his work, but it is not beyond criticism. In particular, it can become weaker the more it makes contact with realities outside itself. If you look upwards in the Great Court he designed in the British Museum, you will see an impressive structure of steel and glass, but at your own level it becomes bland and sometimes clumsy. The Gherkin is a memorable presence on the London skyline, but awkward at pavement level. The Millennium Bridge, even with the modifications necessary to stop it wobbling, is confident and elegant except at its landing, where the overhang of its cantilever creates spaces that are plain nasty.
In the context of infrastructure, the question is also whether it adapts to the political, social and physical conditions that surround it. In answer to Foster's question, yes, I do believe in infrastructure. Or, rather, I'd compare it to water: essential to existence, life-enhancing and sometimes beautiful, but with the power to damage and destroy if misused.
All this makes a new drone-port project in Rwanda one of Foster and Partners' most intriguing. Conceived with Jonathan Ledgard, the director of Afrotech, who describes himself as a thinker on the future of Africa, it is a plan to create a network of cargo drones that can bring medical supplies and blood, plus spare parts, electronics and e-commerce, to hard-to-access parts of Africa. The drones have ports – shelters where they can safely land and unload, but which also serve as "a health clinic, a digital fabrication shop, a post and courier room, and an e-commerce trading hub, allowing it to become part of local community life". Because of their inaccessible locations, they have to be built using materials close to hand, so techniques have been developed for efficiently making local earth into bricks and stones into foundations.
It is impossible at this point and at this distance to know if the drone-port project will achieve what it hopes, but its ambition to adapt to local conditions seems absolutely to the point. The interesting question is then how to bring the same thinking to infrastructure in a developed country, such as Britain. What is the right infrastructure for the society and culture of this country, at this point? Has it changed since Foster's Victorian heroes, such as Bazalgette, did their work? Can we import the large-scale thinking of modern China and, if so, with what modification? These are good questions for an architect to address.
Urban Age Global Debates run until 3 December; lsecities.net/ua
guardian.co.uk © Guardian News & Media Limited 2010
Published via the Guardian News Feed plugin for WordPress.