Innovative inflatable marine platform.

Two former superyacht crew members launch this summer's must-have yachting accessory, the Nautibuoy platform, at the inaugural London Yacht, Jet & Prestige Car Show.
The couple behind the product, Nina Anderson and Clay Builder, created the platform to fill a gap they saw in the market.
"The Nautibuoy platform was created out of the frustrations we felt whilst working as crew! It solves a lot of issues for crew members as well as being a great addition for yacht owners and guests. From the crew's point of view it is a real time-saver, with our biggest platform only taking 3.5 minutes to inflate, and is a robust alternative to launching a tender for boat cleaning," said Clay.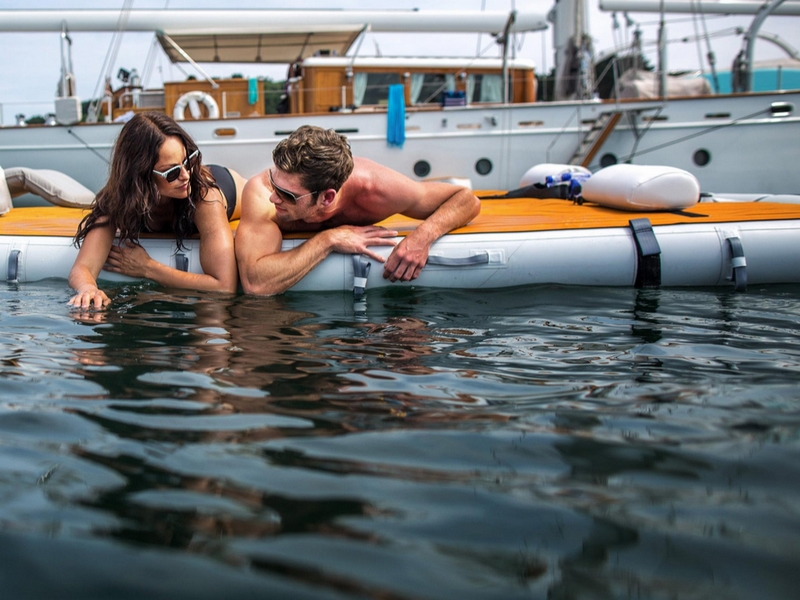 "The platform addresses the issue of misjudged jet-ski collisions, a considerable issue for superyachts, as the cost of damage is enormous! Using our patented linking system, several platforms can be connected to create a safe jet-ski dock. Whilst for owners and guests, our accessories, which include headrests and comfy seats, make the platform the ideal spot for swimming or sunbathing."
A multifunctional inflatable platform with a range of accessories and a patented modular air-toggle linking system, the Nautibuoy platform has a range of uses. From use as an attractive swim and sunbathing platform, to a jet-ski dock or as a sturdy base for carrying out necessary maintenance tasks, the Nautibuoy platform is set to become an essential on any yacht.
Made from highly durable CR/CSM Hypalon, the patent pending ballast system provides incredible stability to the platforms, which can be manually dumped after use to allow easy exit from the water. The platform is available in a range of sizes, from 2.5 to 4.5 metres, and the linking possibilities are endless – side to side, end to end, T shaped and L shaped. Inflation times range from 1.5 minutes to 3.5 minutes for the largest size, which weighs 40kg and is easily stowable.
2015 London Yacht, Jet & Prestige Car Show is taking place at Old Billingsgate and St Katharine Docks, London, from Wednesday 8th to Friday 10th April 2015.