The latest outrageous stunt from VeryFirstTo: World's Most Extravagant Chocolate Easter Bunny – a luxury chocolate rabbit with diamonds eyes.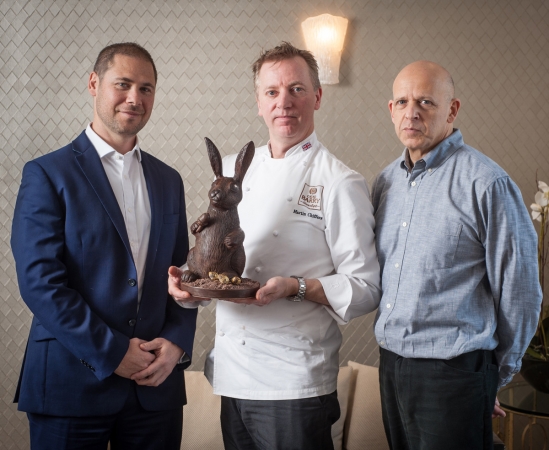 Billed as the world's most extravagant chocolate Easter bunny, this outrageous chocolate Easter rabbit commissioned by British luxury retail site VeryFirstTo.com costs $49,000 thanks to diamond eyes. Once the bunny has been eaten, the diamonds can be set into a bespoke piece of jewellery free of charge.
The luxury chocolate rabbit has been hand carved by award-winning Chocolatier and former Chef Décor of Harrods, Martin Chiffers. The diamonds are from luxury jeweller 77 Diamonds who possess the largest selection of diamonds in the world. It is also possible to purchase the Bunny with different coloured diamonds and gems, or with lower cost gems.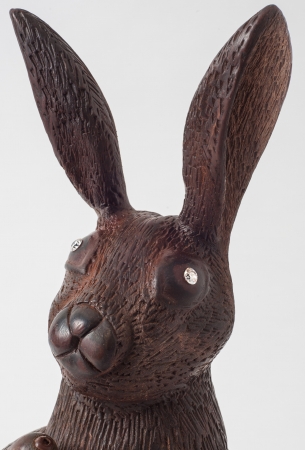 The diamonds were chosen exclusively for inclusion in this exceptional, never done before Easter creation. 77 Diamonds drew on its vast experience as a luxury jeweller specialising in engagement rings and diamond jewellery selecting two 1.70ct Round Brilliant diamonds that are G Colour and GIA certified and boast VS clarity, with a combined value of over £25,000.
The life-size bunny measures approximately 38cm high and Martin Chiffers has excelled in carving a solid piece of luxurious 75% Tanzania Origin chocolate into this interesting bunny. The chocolate sculpture weighs in at approximately 5 kilograms.
"The creative chocolate carving took two days to make and is extremely labour- intensive; Martin has worked diligently to ensure that the bunny is truly a one-of-a- kind Easter delight. Detailing includes three solid chocolate eggs at the foot of the bunny that are decorated with gold leaf," explained VeryFirstTo.com, adding that the 2015 Easter delight can be displayed for 2 years, as long as the temperature is regulated to around 16 degrees.