Your Macbook touches nothing but Mujjo's signature vegetable tanned leather in black. Made to fit the new Macbook.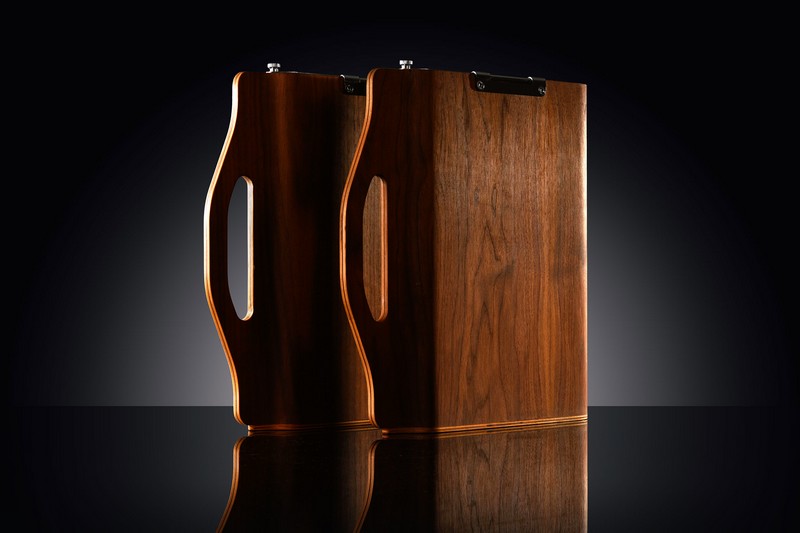 Over the last 5 years, Mujjo, the luxury leather tech/travel accessories manufacturer from Netherlands, has been designing and crafting luxury leather goods from premium quality materials. Celebrating their 5th anniversary, Mujjo created something truly special: a limited edition Wooden Case for Macbook. The case is made to securely carry the all new 13" Macbook Pro, Along with its 3th gen predecessor and the 12" Macbook.
For the occasion, Mujjo is collaborating with Industrial Designer Athanassios Babalis – co-founder of Shibui.ch – who amongst other projects, designed the highly impressive Votrys for the Domaine Gerovassiliou (three wine gift boxes made of curved plywood with oak veneer, cotton string, leather and card.) Athanassios runs a design studio in Thessaloniki, Greece. Having started his professional career in London, moving to New York to continue work for companies such as Dakota Jackson.
Handmade in Greece, the unique Mujjo x Babalis case is designed from leftover American Walnut veneer, taken from the furniture industry. After careful hand selection process, the layers of American Walnut veneer are stacked and placed in a handmade mould. The mould goes into a press, where the case comes to life when the layers of veneer are pressed together into the iconic silhouette.
Subsequently, the luxury case goes on to CNC, a computerized mill which cuts each case to precise measurements to reveal its simple and instantly recognisable final shape. The case then goes through several stages of sanding – all performed by hand – to ensure a smooth finish. It's enclosed with a stainless steel door panel, hand- crafted by an experienced metal worker. Inside, a luxury interior is revealed.
"We've produced a limited run of 50 cases – with 10 representing each year of Mujjo," said Mujjo's designers.
A Macbook slides into the innovative leather lined slot padded with … foam – used to restore vintage Vitra furniture – to keep the device securely in place.
"Our guiding principle is that we design to our own taste – if we don't love it and feel proud to use it, it doesn't get made. It's that simple," said Robin Nagelmaeker, Mujjo's Co-Founder.
Mujjo is also making knitted winter gloves that work on touchscreens. These gloves turned out to be a great success and have been featured in major publications around the globe. In the spring of 2012, Mujjo announced their first collection of sleeves for apple devices, featuring a unique combination of wool felt and high quality leather.