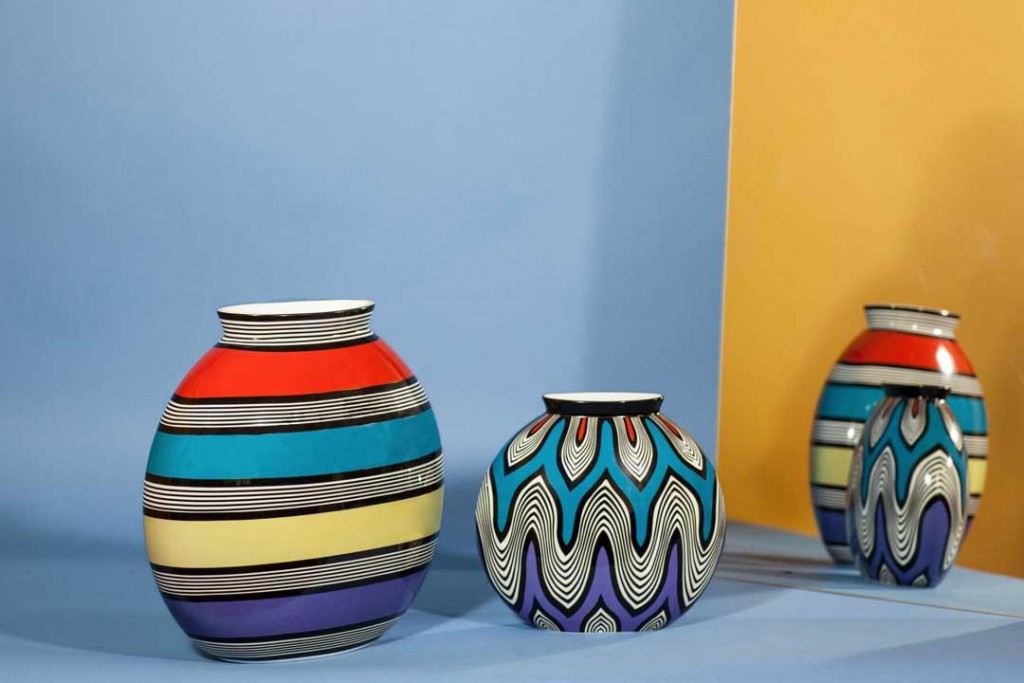 For the 2015 Milan Design Week, the Italian house Missoni has chosen one of its most iconic techniques, patchwork, to create an environment for its installation/event that created a crossroad between the past and the present out of a kaleidoscopic mix of colours, patterns and reflections.
The highlights of the 2015 Missoni Home Collection were Bolla vases, Richard Ginori collection as well as a new line of mirrors.
Vases from the Bolla (which means "bubble" in English) collection are identical in shape, but have different themes, which immediately identify the personality of each of the decorative elements. Zigo Zago is characterized by a multi-coloured motif that fans out. Zigo has a black background while Zago has a white background. Full Moon and Half Moon stand out for their stripes in shades of red, serving as a bit of a contrast to Sunset and Sunrise, which have multi-coloured stripes and interwoven elements, unmistakable symbols of the world of Missoni.
Missoni also stand out at Expo 2015 with the Missoni, l'arte and il colore show at MA*GA in Gallarate; 60 years of history through works of art and iconic pieces that have distinguished the image, inspiration and creations of the company founded by Ottavio and Rosita Missoni.
Guests could actively participate in Cinema Missoni as well as play with prospective clay models and tapestries there. Patricia Mainfeld, Giotto Calendoli, Sara battaglia, Eva Fontanelli and Yvonne Sciò were there; Francesca Cavallin, Paola Maugeri and Micol Sabbadini were there wearing dresses from the latest Missoni collection.