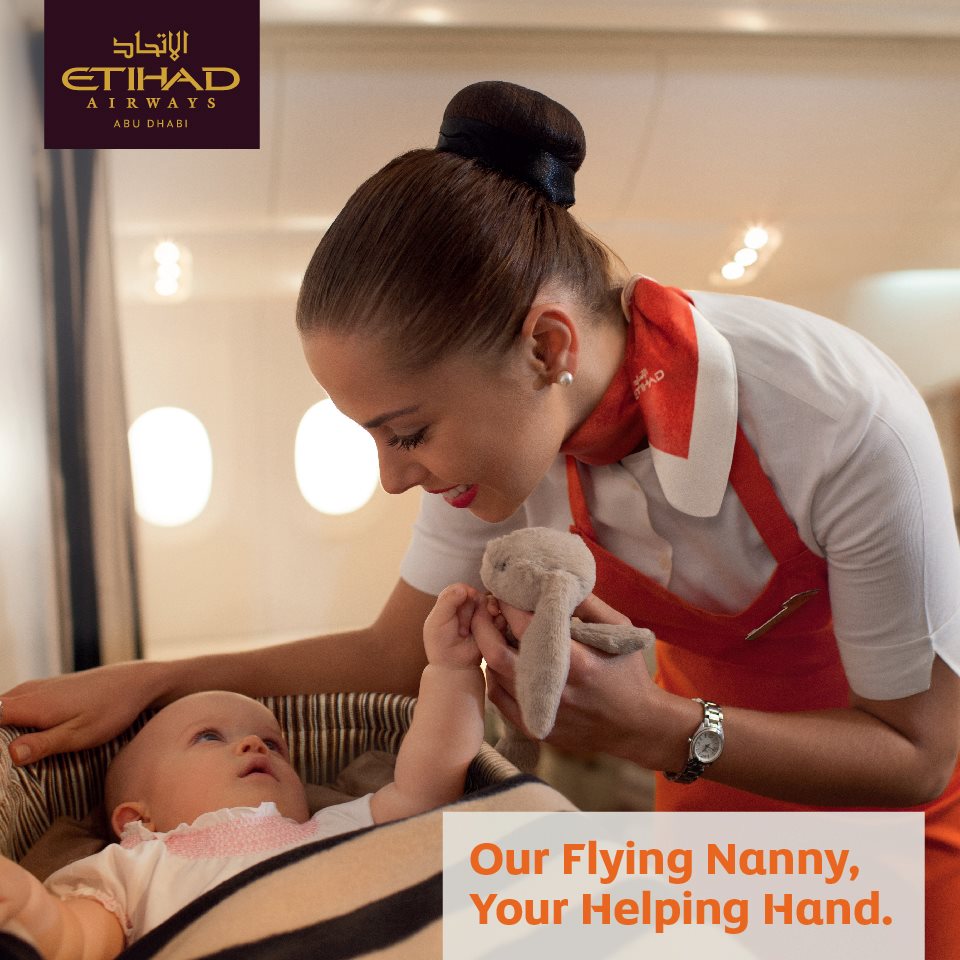 Etihad announced the introduction of flight attendant nannies to tuck kiddies into bed. Available on long-haul flights of the United Arab Emirates-based carrier, the fleet of Mary Poppins will calm irritated passengers and will entertain children with hand puppets, origami, art activities, face painting, and games.
Identified by bright orange aprons, each Flying Nanny aims to provide a 'helping hand' to families and unaccompanied minors. They will also introduce children to the exciting collectable Etihad characters – Zoe the bee, Jamool the camel, Kundai the lion, and Boo the panda – who accompany them on their trip.
During the past two months 300 Etihad Airways cabin crew members have completed enhanced training for the role. A further 60 will be trained in September and 500 Flying Nannies will be working across Etihad Airways flights by the end of 2013, announced Etihad.
The course includes in-depth training, from the world renowned Norland College, concentrating on child psychology and sociology, enabling the Flying Nannies to identify different types of behaviour and developmental stages that children go through and how to appreciate the perspective and needs of travelling families.
"Flying with a young family can be a daunting task, even for the most experienced travellers, and the Flying Nanny role demonstrates our understanding of our guests' needs and our commitment to making the journey as relaxing and comfortable as possible," said Aubrey Tiedt, Etihad Airways' Vice President Guest Services.
Many of these activities derive from a special kit which contains straws, stickers, cardboard and other items which the Flying Nanny uses to teach simple arts and crafts such as creating special greeting cards for friends and family.
The Flying Nanny will also frequently use service items such as paper cups which can be made into hats and the Japanese art of origami to fold paper into sculptures. All activities are designed so the Flying Nanny can leave the children to produce and complete on their own.
A key on-board highlight is set to be the creation of sock puppets which uses stickers from the Flying Nanny kit as eyes and the socks from the guest's travel pack.
In addition to the arts and crafts, the Flying Nannies can also teach children simple magic tricks which helps retain their focus and interest while seated.