The world's most popular football club partners with Tag Heuer.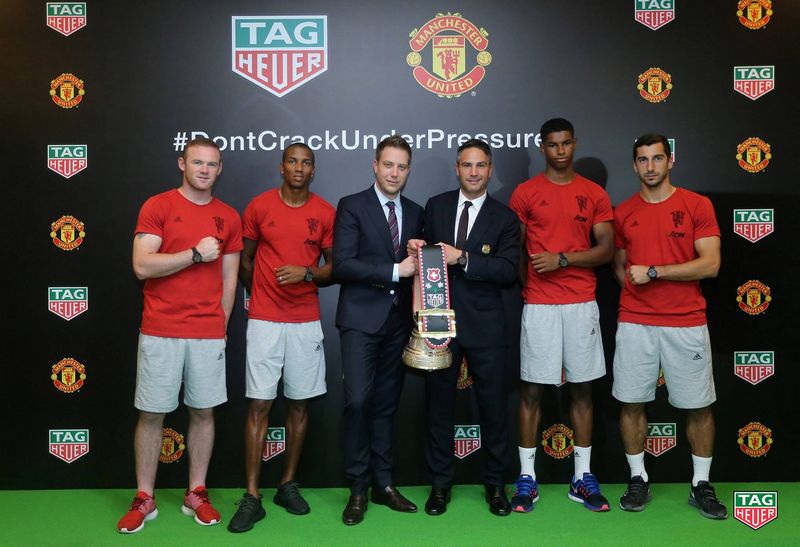 #DontCrackUnderPressure message will invade Manchester United from this fall. The prestigious Swiss Avant-Garde watchmaker Tag Heuer was unveiled as the new Official Timekeeper and Global Partner of Manchester United. Joining forces with Manchester United allows the brand to extend its offering to United's 659 million followers worldwide, 107 million of whom are from China.
As Jean-Claude Biver, TAG Heuer CEO and President of the LVMH Watch Division likes to say "TAG Heuer doesn't "sponsor", we "partner" with iconic teams, organisations, and people who share similar values and a strong vision."
The three-year agreement between Tag Heuer and the world's most popular football club has been celebrated in Beijing with United players.
The first team is currently in China for Tour 2016, preparing for the season ahead. When the team returns to launch its Premier League campaign for 2016/17, TAG Heuer will feature on digital advertising boards at Old Trafford. Specially-crafted TAG Heuer timepieces will be displayed around Manchester United's stadium, including in the team's dressing room, as well as the club's Aon Training Complex and its offices in Manchester, London and Hong Kong. TAG Heuer branding and its brand motto #DontCrackUnderPressure, will feature across all of Manchester United's digital platforms, including its website and social media.
"In TAG Heuer, we have a partner that will naturally be well-equipped to support us, not least because we share so much. Our rich history can be traced back to the same era; we've both overcome challenges and come out stronger in our quest for the highest level of performance. Our prestige is down to our unrelenting commitment to be pioneers," commented Manchester United's Group Managing Director, Richard Arnold.
"Above all, TAG Heuer understands that the journey always continues, as time does, and I'm very proud to say that we're now on that journey together," added Arnold.
"Manchester United is the most prestigious football team in the world and getting into football at the highest level is for me very important," explained Jean-Claude Biver.
"We believe in the need for long-term work in order to truly communicate the message we have together. With Manchester United, we communicate passion, emotion, joy, dreams, team spirit, organisation, strategy and finally victory, values that are also carried by our brand and more importantly by the peopfale who buy and wear our watches."