Clinique Announces Partnership with Petra Nemcova's Happy Hearts Fund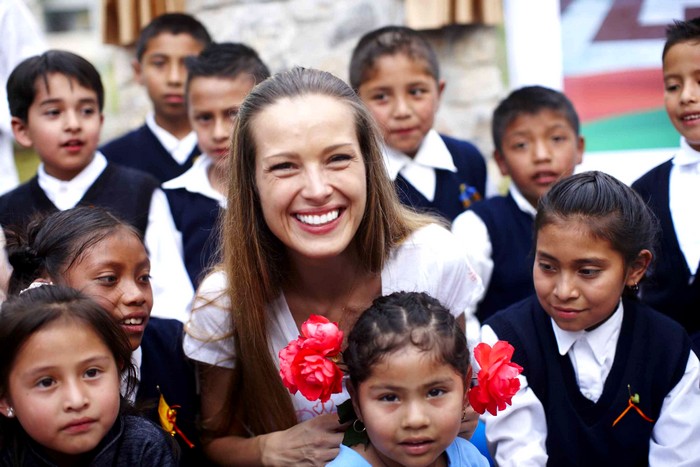 Clinique, the first ever dermatologist-created, prestige cosmetic brand, announced a multi-year partnership with Happy Hearts Fund, an international charity founded and led by Petra Nemcova, helping to build and rebuild schools in areas affected by natural disasters.
On December 1, 2012, Clinique will introduce a limited edition Happy Heart 30ml fragrance for $37 (SRP). $10 from the sale of each fragrance will go directly to Happy Hearts Fund. Clinique has also created a limited edition T-shirt, with the message "Make Someone Happy," a mantra the beauty brand hopes will inspire everyone to consider the act of giving and sharing during the holiday season. $5 from the sale of each T-shirt will go to Happy Hearts Fund. Both products will be sold in the US and Canada, exclusively.
Clinique chose to partner with Happy Hearts Fund to "reinforce the brand's long-term commitment to children and education". Happy Hearts Fund is active in six countries and has built or rebuilt over 70 schools and kindergartens. Since its inception, the Fund's programs have benefited more than 41,000 children and 340,000 community members. Through this partnership, Clinique and the Fund will develop educational institutions for children globally.
Petra Nemcova launched Happy Hearts Fund in 2006 to bring hope to the lives of children affected by natural disasters. As a survivor of the 2004 Indian Ocean Tsunami in Thailand, Nemcova witnessed the devastation of communities, families, and children. By focusing on rebuilding and building schools in areas affected by natural disasters, the fund helps provide a safe haven for children, and a sense of normalcy.