The auction in November will offer the chance for someone to acquire extraordinarily rare jewels imbued  with a fascinating history. The Donnersmarck Diamonds pair is estimated at $9-14 million (CHF 8,810,000 – 13,700,000).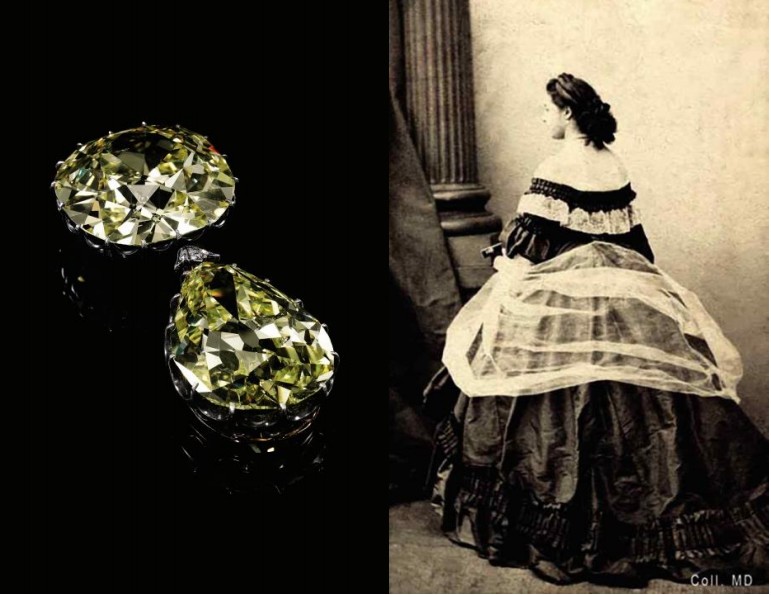 To mark 10 years of dedicated Noble Jewels sales in Geneva, Sotheby's will offer at auction The Donnersmarck Diamonds, a pair of extraordinary Fancy Intense Yellow diamonds with impeccable aristocratic provenance. The superb diamonds, formerly in the Collection of the Princely Family von
Donnersmarck, consist of a cushion-shaped diamond weighing 102.54 carats, and a pear-shaped diamond weighing 82.47 carats.
These extraordinary and evocative stones come to the market at a moment when interest in 'Noble Jewels' – that is jewels with great provenance, often with great stories to tell – is at an all-time high. Sotheby's introduced sales dedicated solely to jewels of this kind in 2007. Since then, the market for jewels with royal and aristocratic provenance has gone from strength to strength.
The exquisite stones will be offered as a single lot during Sotheby's auction of Magnificent Jewels and Noble Jewels, to be held on 15 November at Mandarin Oriental, Geneva. The pair is estimated at $9-14 million (CHF 8,810,000 – 13,700,000).
Sotheby's Jewels of Noble Provenance are fragments of history. Having been worn in the splendour of mansions, palaces and castles, they have adorned the lavish evening gowns of queens and aristocratic ladies and been witness to thousands of secrets, gossip, intrigues, affairs and love stories. Sometimes given as tokens of love, they were designed to be symbols of the wearer's status.
"These stunning diamonds carry with them a fascinating story, full of romance and determination over adversity, which could have inspired some of the greatest novels and operas, from Manon Lescaut to La Traviata," said David Bennett, Worldwide Chairman of Sotheby's International Jewellery Division.
"Ten years ago, they were the star of the show when we launched our very first sale dedicated to Noble Jewels here in Geneva. I am delighted to mark a decade of success by presenting these exceptional diamonds once again."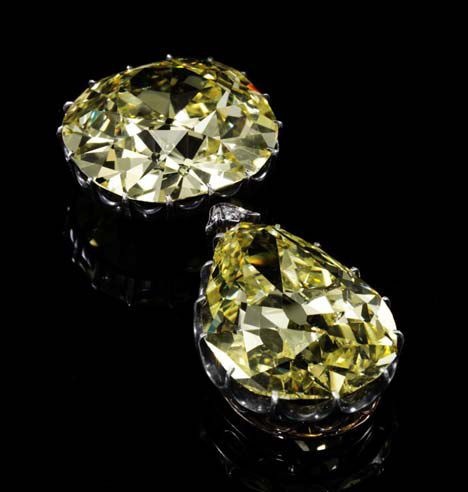 LA PAÏVA
The Donnersmarck Diamonds were part of the collection of La Païva, Countess Henckel von Donnersmarck (1819-1884), arguably the most famous of 19th -century French courtesans, whose vertiginous trajectory from modest circumstances in her native Russia to the highest circles of European
aristocracy was sensational. Born Esther Lachman, she arrived in Paris aged 18 and was rapidly introduced to the city's cultural and artistic circles by her lover, piano composer and pianist, Henri Herz.
This relationship gained her the friendship of many artists, including Richard Wagner, Hans von Bülow, Théophile Gautier, and Emile de Girardin. In the late 1840s, she met the Portuguese Marquis Albino Francisco de Araújo de Païva. They were married in 1851 but the marriage lasted only one day. Now known as La Païva, It was around this time she met her future husband, Count Guido Henckel von Donnersmarck (1830-1916).
The yellow diamonds remained in the Donnersmarck family for morethan a century until they appeared at auction at Sotheby's in 2007. They come to auction this November after having been in a private collection for the last 10 years.
The world's largest Fancy Intense Pink diamond, weighing 37.30 carats, is among the stars of this sale, which also features an important array of coloured diamonds, including an outstanding Fancy Vivid Blue diamond weighing 7.41 carats, mounted as a ring by Moussaieff. Further noble treasures include such jewels as those from the collection of Princess Mathilde of Württemberg and the emerald and diamond necklace from the collection of the Duchess of Berry.