India is a source of inspiration and fine workmanship for foreign fashion houses. The interest in India is growing and coincided with the rise of Saloni Lodha career. The London-based Indian fashion designer wants to puts the luxury tag on 'made-in-India' label, that often seen as the product of sweatshop labour.
Saloni Lodha's fans include film stars Naomi Watts and Emma Watson.
"I have great faith in the made-in-India idea, and wanted to see an Indian, made-in-India brand in the world's best stores," she told AFP while on a visit to Mumbai to source fabrics.
But few have discussed manufacturing clothing in India as extensively or as openly as Lodha, out of fear that consumers might refuse to pay top dollar for "made in India" items.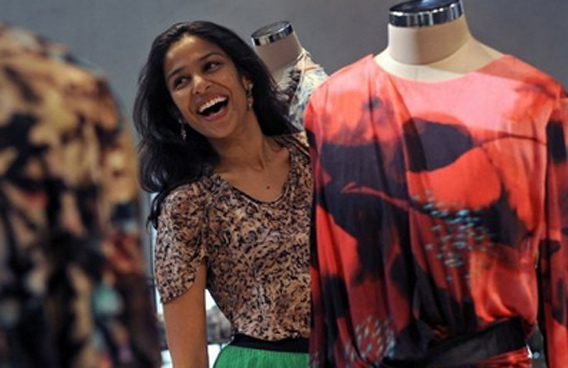 "India has incredible craftsmanship, there are skills here you just can't replicate. Made-in-India is a luxury on so many levels," she said.
Despite India's wealth of craftsmanship and centuries-old textile tradition, few Indian designers have made it big overseas, with the exception of Delhi's Ritu Beri, formerly with French fashion house Jean-Louis Scherrer, and Manish Arora who currently heads Paco Rabanne.
The rest have preferred to target India's own growing market instead, as Lodha is beginning to do now.
"I have never really sold in India before, but I was recently approached by Le Mill (a Mumbai boutique). We started selling there in Spring/Summer 2011 and the response has been terrific."
And while she admitted it was "incredibly exciting" to see her clothes on Hollywood stars, she now has a new customer in mind – the Bollywood stars.