Mercedes-Benz Style and Lufthansa Technik develop VIP cabin for short- and medium-haul aircraft.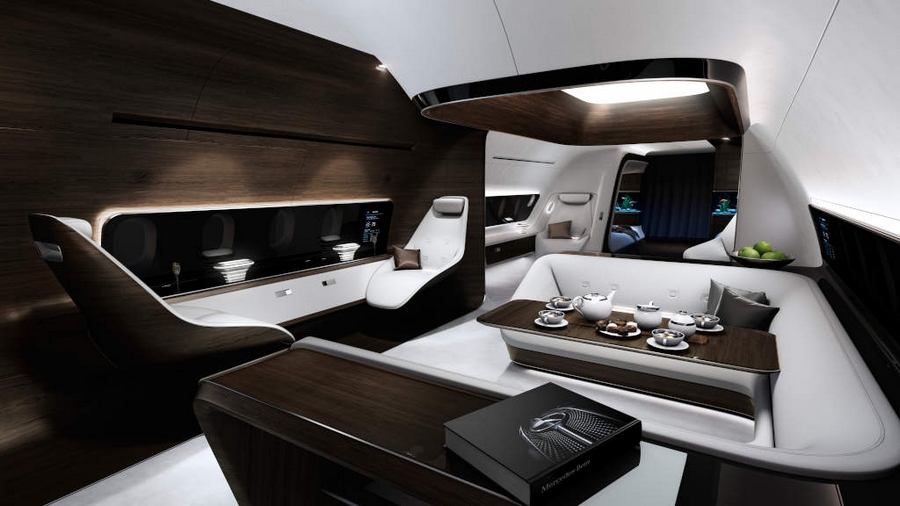 The traditional separation of ceiling, wall and floor in the future VIP cabin for short- and medium-haul aircraft will be replaced with dynamic architecture. The Mercedes-Benz Style x Lufthansa Technik proposal presented at EBACE 2015 in Geneva is just in the concept phase. But the entirely innovative, luxurious and integrated cabin concept could very well soon become a reality. Mercedes-Benz VIP aircraft cabins is centered around organic and it flows like a spiral.
"It was an inspiring challenge to transfer our design philosophy of sensual purity into the area of aeronautical engineering," said Gorden Wagener, Vice President Design Daimler AG. "Sensual surfaces and clear forms, combined with intelligent high-tech features and perfectly shaped modern luxury are the characteristic features of Mercedes-Benz design."
Floor, wall and ceiling flow into each other. Featuring numerous innovative details, the furniture with its sensuous clarity of design merges seamlessly with the cabin interior. The cabin windows are concealed by so-called black panels, which, inspired by the screen design in the Mercedes-Benz S-Class, appear to float in front of the window like a light corona. Innovative Mercedes-Benz Magic Sky technology allows the panels to be dimmed electrically from black to transparent. Displays and touch screens for entertainment and information can easily be integrated into the black panels.
Mercedes-Benz Style and Lufthansa Technik plan to target this innovative concept at a private global clientele with a strong affinity for unique design. Lufthansa Technik will contribute in the customisation of VIP and VVIP aircraft in order to harmonise unique design with the particular requirements of an aircraft cabin.
"Our goal is to offer a highly discerning global clientele a standard of interior design that leaves nothing to be desired. Whether for private or business use, our
modular completion concept perfectly fits every purpose," says Walter Heerdt, Senior Vice President VIP & Executive Jet Solutions, Lufthansa Technik AG.
In the coming months, the two companies will jointly evaluate the general level of customer interest on the VIP market, in addition to further developing the details of the design concept.