The most-searched luxury brands in Brazil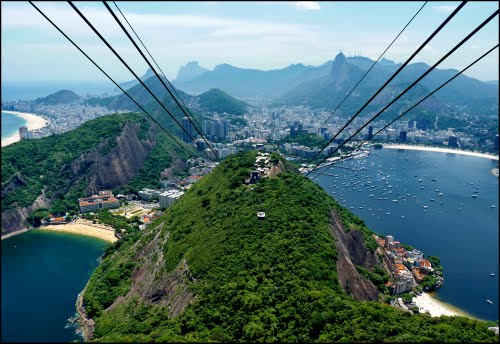 What are the most sought-after luxury brands in Brazil? 20+ million consumer online searches originating from Brazil shaped the key trends of the Brazilian luxury market identified in the latest World Luxury Index – Brazil released by Digital Luxury Group (DLG).
The study covers 300+ luxury brands within six key segments (fashion, beauty, jewelry, cars, watches, and hospitality) in ten key luxury markets and provides insights on the interest coming from luxury consumers in Brazil.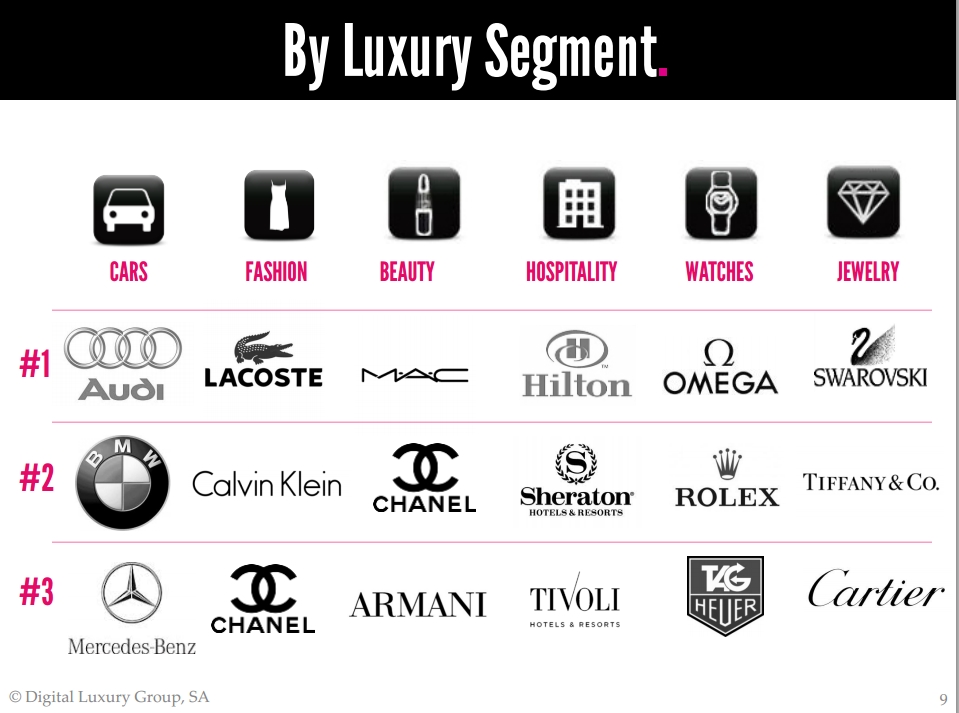 Here are some findings of the study:
– The global luxury Brazilian market is estimated at 11,94 billion USD in 2012. 80% of luxury products acquired by Brazilians are purchased abroad. Brand interest for luxury increased by 24% in 2012.
– Brazilians are sophisticated, educated and keen to follow trends, with a desire of immediate consumption of the best.
– Brazilians are Fashion addicts. "Style is to Brazil what precision is to Switzerland," said David Sadigh, Founder and CEO Digital Luxury Group.
– Brazilians love Casual fashion. Apparel is the leading fashion category 43%, led by casual luxury brands Ralph Lauren, Lacoste and Armani.
– High-end Luxury brands are preferred for handbags.
– Sunglasses are an entry point to luxury. Sunglasses rank particularly high: they represent over 5% of fashion related searches in Brazil.
– Sports rule watch preferences of Brazilians. Most searched for luxury watch collections reveal Brazilians preferences for Men's, Sports and Chronograph timepieces, a segment dominated by TAG Heuer, Rolex and Omega.
– Brazilians' love for Appearance boosts the Beauty sector. Consumer interest for Beauty brands grew by 49% in 2012. Per capita spending on beauty and personal care products is around $260, which is similar to the one in the USA.
– Consuming Beauty becomes a need in Brazil. Perfumes and makeup are driving the beauty sector, representing over 90%
of consumer interest.
– High-end Luxury malls are a success in Brazil. Two high-end luxury malls were successfully launched in 2012: JK Iguatemi in São Paulo and Village Mall in Rio de Janeiro. Nearly half a million searches for those malls were recorded over the year.
Malls are an entry point to the Brazilian market. High-end luxury malls have been the privileged locations for brands to open their very first own stores in Brazil.
– Automobiles represent 50% of the Brazilian luxury market.
– Luxury purchases abroad are Brazil's fiercest competitor. "The "Brazil cost" is a combination of logistic costs, distribution costs, people costs, that are all heavily impacted by domestic taxes – as well as importation taxes. In average, an imported product will be 2.5 more expensive in Brazil than in the US or in France."
– Import taxes on luxury goods in Brazil are among the highest. A Porsche Carrera Convertible worth USD $96,200 in the US will be sold USD $355,000 in Brazil.
– Brazilians are valuable luxury travelers.America is the top destination for Brazilian travelers 71% of travel location searches. They rank first¹ in per capita spending amongst the top 10 groups of foreign visitors to the US. Paris, Lisbon and London are the most searched for European destinations.
– Brazilians prove a passion for SUV and sport cars. Out of the top 50 most searched car models, 18 are sports cars and 17 are SUVs.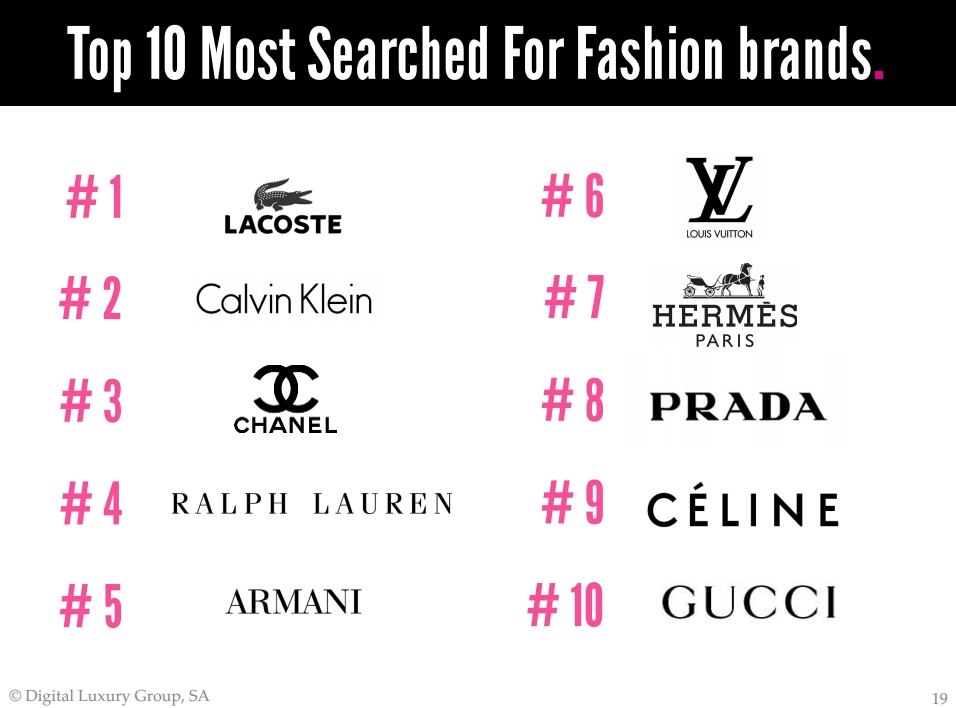 Top 50 most-searched luxury brands in Brazil:
1 Audi
2 BMW
3 MAC Cosmetics
4 Mercedes Benz
5 Range Rover
6 Ferrari
7 Porsche
8 Chanel
9 Volvo
10 Armani
11 Lamborghini
12 Omega
13 Hilton
14 Sheraton
15 Rolex
16 Lacoste
17 BugaYi
18 Calvin Klein
19 Dior
20 Tivoli
21 TAG Heuer
22 Ralph Lauren
23 Hermès
24 Renaissance
25 Intercontinental
26 Gucci
27 Louis VuiYon
28 Lancôme
29 Cadillac
30 Regent
31 Cartier
32 Burberry
33 Swarovski
34 Make Up For Ever
35 Jaguar
36 Infinit
37 Prada
38 Lexus
39 Bulgari
40 Breitling
41 Celine
42 Lotus
43 Pagani
44 Christian Louboutin
45 Kenzo
46 Clinique
47 Dolce & Gabbana
48 McLaren
49 Aston Martin
50 Michael Kors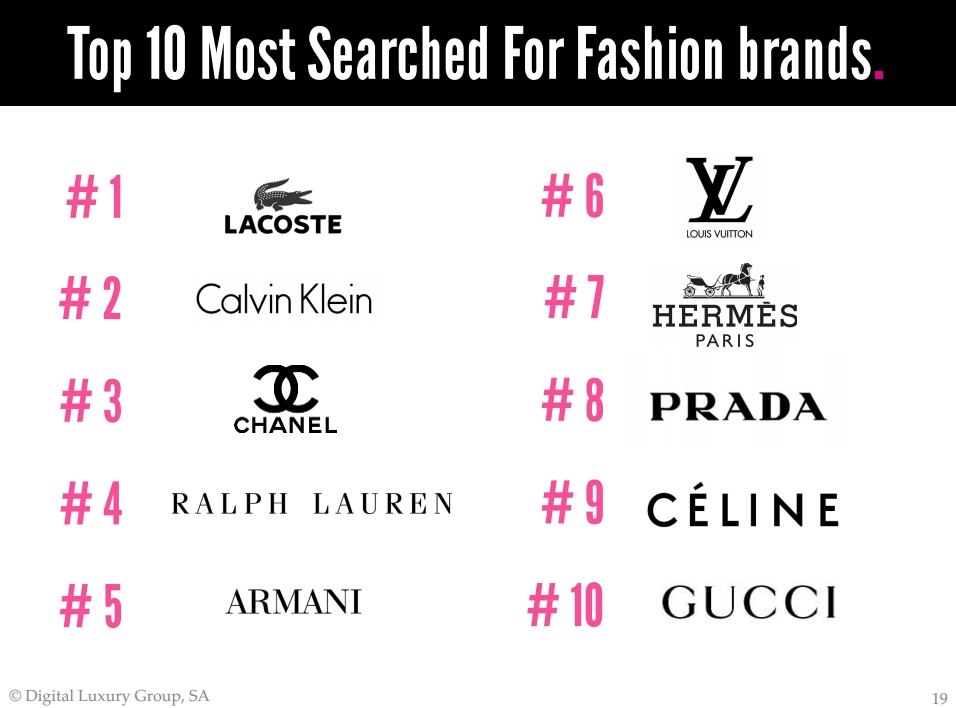 Top 10 most searched watch models in Brazil:
1. TAG Heuer Carrera
2. Rolex Daytona
3. Omega Seamaster
4. TAG Heuer Monaco
5. Rolex Submariner
6. TAG Heuer Grand Carrera
7. TAG Heuer Formula 1
8. IWC Portuguese
9. Rolex Oyster Perpetual
10. Hublot Ayrton Senna
Top 10 Most Searched For Fashion brands in Brazil:
1. Lacoste
2. Calvin Klein
3. Chanel
4. Ralph Lauren
5. Armani
6. Louis Vuitton
7. Hermes
8. Prada
9. Celine
10.Gucci.