"I want to caress you madly" or "Let me kiss you tonight," displays the new Erotic timepiece from Richard Mille.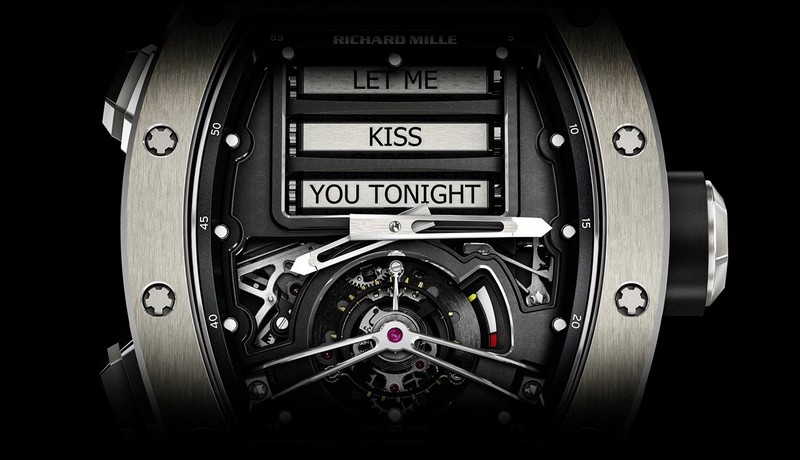 Erotic timepieces are part of watchmaking history. Because they broke with conservative moral, religious and political customs, these watches were banned and confiscated. But like all forbidden love, their pleasure was enjoyed away from prying eyes. Thus by concealing the complications at the heart of watches in question, certain models have survived to
this day.
M 69 Tourbillon Erotique, the latest Richard Mille's watch, was also inspired by intimacy, sexuality, and passion. Far from scenes brought to life by automatons, this creation plays on the desire to openly express passion, sensuality and even sexuality. The new erotic tourbillon displays random messages such as "I want to caress you madly" or "Let me kiss you tonight."
"Its name is a clear affirmation of the creative longing to reveal our most secret intentions in all their glory. Playfully interpreted, this fine watchmaking creation will delight and amuse its owners, teasingly displaying phrases that evoke desired pleasure," says Richard Mille manufacture about the RM 69 Erotic Tourbillon limited to 30 pieces.
The complex mechanism, which occupies a large part of the surface of the movement, is activated at the owner's request
by pressing a push-button at 10 o'clock. Releasing the button triggers the rotation of the grade-5 titanium rollers.
To facilitate reading the statements, a push-button located at 8 o'clock commands the hours and minutes hands to
momentarily retract.
The caliber RM 69 features a unique Richard Mille architecture known as Duoplan, which was developed in collaboration with engineers from AP Renaud & Papi.
In this Duoplan construction, the tourbillon and barrel are superimposed on the same axis rather than being assembled face-to-face. This ensures that the caliber is more compact and has greater shock-resistance, meaning that larger
complications can be integrated into the watch.
The timepiece will be presented at the 2015 Watches and Wonders trade fair Hong Kong (September 30 -October 3, 2015). Being a very limited edition, the new "erotic" watch will end up in the collectors hands.