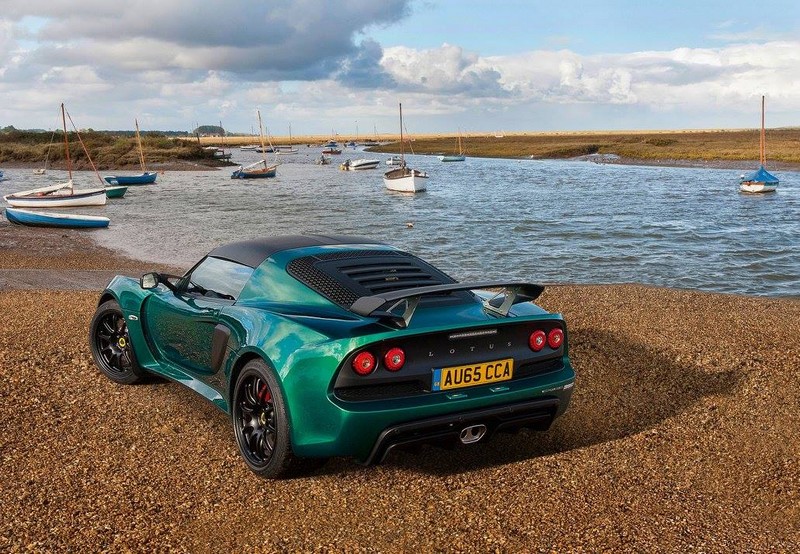 The new Lotus Exige Sport 350 is the next model in the range to mark the reintroduction of the renowned 'Sport' naming designation. It joins the recently announced Lotus Elise Sport and Elise Sport 220 –delivering a lighter driving experience.
A product of Lotus' 'Lightweight Laboratory', the Exige Sport 350 weighs just 1125 kg and has shed 51 kg compared to the previous model Exige S. This reduction in mass is the result of a thorough re-evaluation designed to deliver a pure driving experience.
"The Lotus Exige is already regarded as one of the world's best sports cars and a benchmark for performance and handling both on road and on track. With the Exige Sport 350 we took an already phenomenally quick car and made it even faster, more dynamic and more pure, perfectly demonstrating our Lotus design philosophy of 'lighter and faster'," said Jean-Marc Gales, CEO of Group Lotus.
The 3.5-litre supercharged V6 engine generates 345 hp and 295lbft of torque at 4500rpm, offering scintillating, progressive powerto the road, while revised suspension tuning and wheel geometry contribute to unmatched vehicle dynamics and steering precision. Coupled with the car's lower mass, this power and torque enables the Lotus Exige Sport 350 to accelerate to 60 mph in just 3.7 seconds (0-100km/h in 3.9 seconds) before reaching a top speed of 170 mph (274 km/h).
Lotus Dynamic Performance Management (DPM) provides three discrete modes – 'Drive', 'Sport' and 'Race' – with the latter offering increased levels of traction slip threshold, allowing wider drift angles before intervening. The system also opens the engine exhaust bypass valve at mid-to-high engine speeds. Both 'Sport' and 'Race' settings increase throttle responsiveness.
New trim packs introduce a heritage theme to the cabin with lightweight sports seats and door panels clad in red or yellow Tartan (leather or Alcantara interior trim options are also available). The Tartan theme was first introduced in 1976 in the Lotus Esprit S1 and was a bold statement originally in keeping with the fashion of the time and now fitting for the new Exige Sport 350.
Jean-Marc Gales continued, "Light weight is the most important aspect of our heritage and future Lotus cars will follow the direction of our most recently launched models, the Evora 400, Elise Sport and of course our latest Exige Sport 350, all of which are both lighter and faster than their predecessors. Over the last 15 years, successive versions of the Lotus Exige have beaten more expensive sports car rivals in media comparison tests and I expect the Exige Sport 350 to continue this. The best has just got better!"
The Lotus Exige Sport 350 goes on sale in Europe in February 2016 and will be available outside Europe, excluding North America from March 2016.