Limited edition Anya Hindmarch rainbow bags.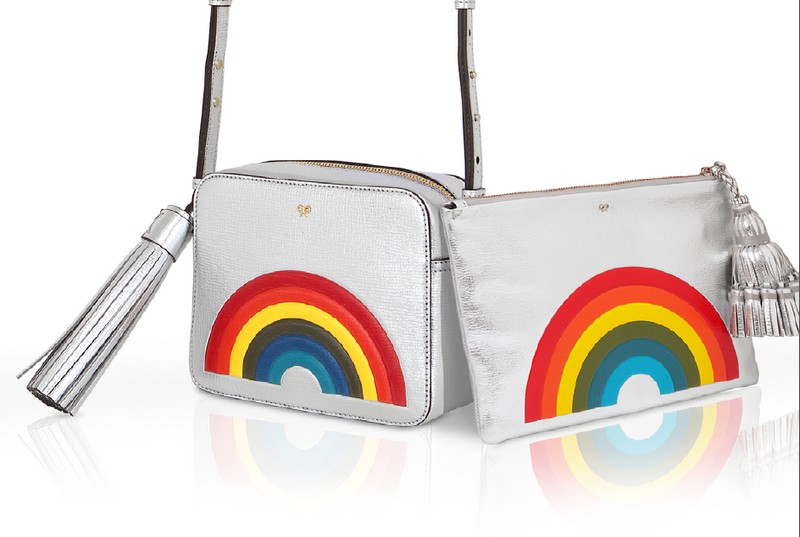 Named Accessory Designer of the Year at the 2014 British Fashion Awards and Business Woman of the Year by Harper's Bazaar in 2013, English high-end fashion accessories designer Anya Hindmarch has created for luxury retailer LuisaViarRoma two limited-edition cross-body bags and a clutch in metallic silver leather, all customized with rainbow sticker graphics inspired by the 70s.
"The Rainbow – explains Anya Hindmarch – is a symbol of carefree happiness and each piece in this collection is a happy burst of fun and colour in what will be the depths of winter."
Available exclusively online at luxury e-retailer luisaviaroma.com and at the Concept Store in Florence, the limited edition Anya Hindmarch bags with be presented as part of a colorful mechanical window display dedicated to the designer.
"For Autumn Winter 2015, Anya drew inspiration from the lights, reflective surfaces and graphic signage that you find on the motorway. Using intricate techniques such as leather marquetry and thermal bonding, we've explored these graphics in a luxurious and subtly humorous way on totes and evening clutches," explained LuisaViarRoma.
Hindmarch has been a design consultant to British Airways and has designed their highly-covetable First Class amenity kits to much acclaim for 7 years. Hindmarch designed the gift bags given to guests at Vanity Fair's Oscar party since 2006, as well as the BAFTA gift bag.
In 2008, Hindmarch launched a limited edition handbag for US retailer Target. In the same year, Hindmarch collaborated with Selfridges to design a collection of Christmas hampers. In 2013, Anya Hindmarch opened its New York flagship store on Madison Avenue. It marked two firsts for the brand: as well as unveiling the new global store design, it is also the first time the mainline and bespoke collections have been housed under one roof.