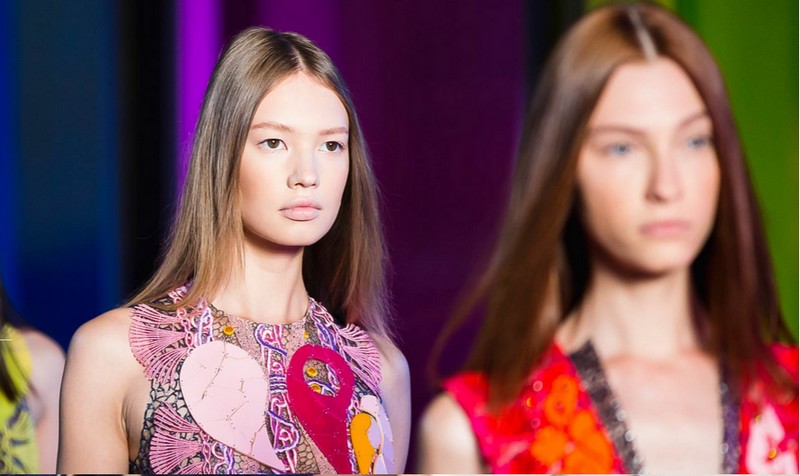 ---
This article titled "London fashion week launches in quirky new home – a multistorey car park" was written by Jess Cartner-Morley, for theguardian.com on Friday 18th September 2015 16.14 UTC
It might not seem immediately obvious that a move from one of the country's largest and grandest examples of 18th-century architecture to a concrete multistorey carpark is a step up in the world, but then British fashion has always lived by its own rules. On Friday morning, the 62nd London fashion week – 5,000 visitors, 52 catwalk shows, plus the consumption of an estimated 30,000 espressos and 15,000 bottles of Evian – set up camp in its new home, the Brewer Street car park.
To be fair, Brewer Street is an admired Soho landmark, which English Heritage advised listing in 2002. (It is, apparently, the third-oldest multistorey car park to feature ramps.) The new venue brings the shows "closer to retail", as the British Fashion Council chief, Caroline Rush, says. Not just literally and geographically closer, but closer in spirit.
While the courtyards and fountains of Somerset House were undeniably picturesque, the new location – handy for Oxford Street – reflects how the character of London fashion week has changed over the past decade, from being a place where oddly dressed folk applauded largely theoretical suggestions about what people might wear if all societal norms were to be suspended, to a showcase aimed squarely at the business of selling clothes.
As a result, modish midi skirts and sleeveless coats were almost outnumbered by business suits at the opening celebration. Culture minister Ed Vaizey was accompanied by the paymaster general, Matthew Hancock, who said he was there because "London fashion week is such an important part of the future of Britain. It symbolises everything we want to be, as a country".
Retail grandees Marc Bolland, chief executive of Marks and Spencer, and Johnnie Boden were also there. It was a first fashion week visit for Boden, who said he had been "rather terrified of it, but in fact it's rather nice. The people are surprisingly friendly."
The traditional opening speech was jettisoned, in favour of a movie-style trailer for fashion week emailed to attendees by BFC chair Natalie Massenet in advance. The key message trendspotters took from the morning event was that avocado on toast, recently derided as over in some quarters, was still an officially fashionable breakfast, as evidenced by the canapes.
The shift towards more wearable clothes at London fashion week took place some seasons ago, but new this season is the focus on making what happens on the catwalk accessible to the consumer. The clubhouse atmosphere that once prevailed is being stripped away in favour of public access, a trend also seen at New York fashion week, where Givenchy opened their show to 820 members of the public.
Screens have been erected in Soho's Golden Square to broadcast live from the London catwalks. Belinda Earl, style director of Marks and Spencer, who was planning to visit Golden Square after the Brewer Street launch, was enthusiastic. "That's what's great about the Soho location," she said. "It feels much more inclusive."
Alasdhair Willis, who will stage the fourth catwalk show for his Hunter brand on Saturday, believes the move toward an open-door event is the right direction for London fashion week. "The move to Soho is part of a push to bring the outside audience, and ultimately the end customer, closer to the catwalk experience," he said.
Hunter wellies have been a staple of festival fashion since Kate Moss was first photographed wearing them with denim shorts at Glastonbury 10 years ago, and Willis said Saturday's show was a celebration of the brand's "modern-day history" as festival-wear. "We are associated as much with festivals as with fields, and this season is based around that. The audience relevant to our brand is so much broader than the catwalk viewer. Reaching that audience is not just about livestreaming, it means going beyond that."
In the hour before Saturday's show, live sets by up-and-coming bands will be broadcast on Periscope, as a warm-up to the show. "We want to make the show go beyond the four walls," Willis said.
Burberry can claim credit for kickstarting the trend toward engagement now sweeping London fashion week; the challenge now, for London's prime luxury brand, is to stay ahead of the game. This season's innovation is a partnership with Snapchat, in which all the looks in the new collection will be debuted on Snapchat on Sunday evening, almost 24 hours before the show takes place. The Snapchat images will disappear after 24 hours. The move is significant not just because of the reach of Snapchat, which has 100 million users, but because of the profile of those users. 71% of Snapchat users are under 35, compared with 38% of Facebook users. This makes the photo-messaging app a powerful ally in the inter-brand battle to reach a new generation of fashion consumers.
Proof of how seriously London fashion week is now taken on the global stage is clear from the international fashion names who want in on the act. Versace has moved the catwalk show for Versus, its edgier diffusion line, to London, with a show and party on Saturday evening. Louis Vuitton is staging Series 3, an exhibition about the creative process behind a fashion collection, which opens to the public in the Strand on Monday after a gala opening the night before. On the eve of the catwalk shows, Giorgio Armani threw a very British cocktail party at the Connaught, at which made-to-measure suits were showcased by Downton Abbey actors Dan Stevens and Allen Leech.
The first show on Friday morning, by Korean-born J JS Lee, was inspired, the show notes said, by birdcages, street art and 70s youth culture. Onto the catwalk came, first of all, a trouser suit – albeit one with no sleeves, and Bianca Jagger flares. Flair tempered with a measure of practicality looks set to be London fashion week's first trend.
Highlights of London fashion week
Burberry
The clothes will have been all over Snapchat already, but the catwalk extravaganza at Burberry will have a sweetener in the form of a celebrity-studded front row seldom rivalled at London fashion week. This week, Burberry became the first global brand to curate a dedicated channel on Apple Music, a launch that will be marked at the show by a live performance by Alison Moyet.
Versus
Donatella Versace loves London's youthful energy so much that she has moved her diffusion line to show in the city. Any Versace event is a party in spirit, and the Saturday-night slot promises high jinks. Versus is designed by Anthony Vaccarello, a 32-year-old Belgian-Italian designer fond of high splits and daring slashes. One to dress up for.
House of Holland
Henry Holland was one of the first designers to use the Brewer Street car park as a show venue back in 2010. This season, he moves his show to the site of what was once Collins Music Hall, in Islington. Holland's Instagram-friendly friends – Alexa Chung, Pixie Geldof, Daisy Lowe et al – will no doubt be in full effect.
Hill & Friends
Former Mulberry designer Emma Hill makes her long-awaited return to fashion on Sunday morning – in the slot usually taken by Mulberry, and in Claridges, where Mulberry usually shows. Hill's is one of a series of female comebacks this week: Zandra Rhodes is back on the schedule with a batik collection, while Luella Bartley and Katie Hillier, fresh from a stint at Marc by Marc Jacobs, will host a dinner to launch their new label.
Lenie Boya
Paralympic athlete Stefanie Reid will become the first British amputee to model at London fashion week, when she opens Lenie Boya's show at Charing Cross hotel. Sophie de Oliveira Barata of the Alternative Limb Project has designed a bespoke blade prosthesis featuring a chandelier, which Reid will wear in the show.
guardian.co.uk © Guardian News & Media Limited 2010
Published via the Guardian News Feed plugin for WordPress.