The most luxurious Diamond Jubilee package on the market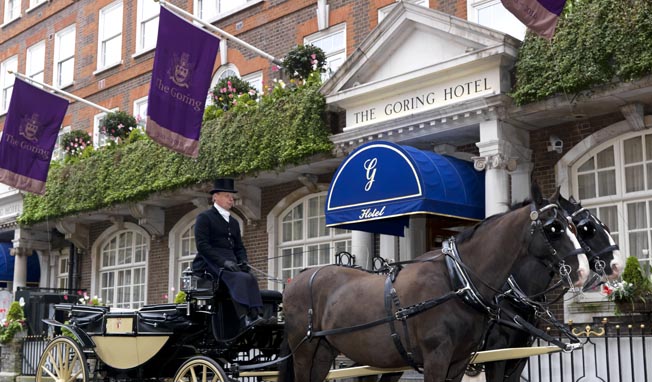 London's five-star Goring, the luxury hotel where Kate Middleton spent her last night as a commoner, is celebrating the Queen's Diamond Jubilee by offering theworld's most expensive package holiday. Four nights in Kate Middleton's wedding hotel are on sale for £1 million.
The Goring package includes four nights in the Royal Suite, the same Kate Middleton stayed on the eve of the royal wedding, a bespoke diamond ring from De Beers, vintage Cristal champagne on arrival; a Jubilee dinner; a chauffeur-driven Bentley; a horseand-carriage ride; and an afternoon tea for two.
"We understand it is a niche product, as it is definitely the most luxurious Diamond Jubilee package on the market," a spokesman for the hotel told the telegraph.
"You definitely save money with the package," the spokesman says. "The ring itself is worth £1 million, so, with additional services like the horse and carriage and chauffeur-driven Bentley, you get more than your money's worth."
The Diamond Jubilee celebration at the hotel does not end here. Goring is offering a Diamond Jubilee cocktail at £120 served in a Swarovski glass that you can keep.