World premiere of the Vengeance Volante by Kahn at the 2017 Geneva Motor Show (9-19 March, 2017).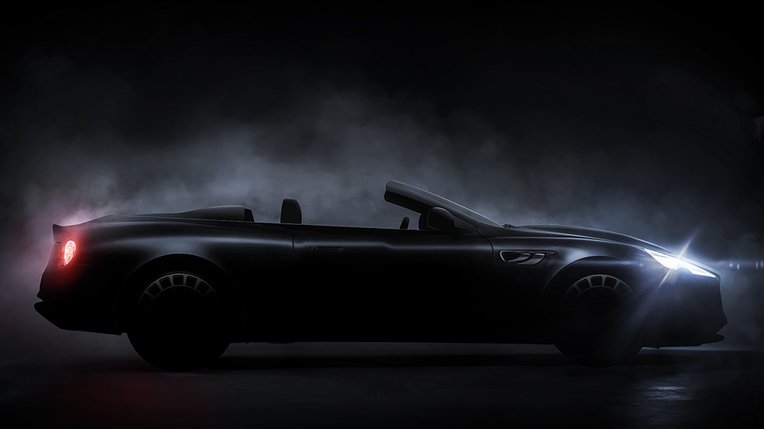 Following the successful launch of the original Vengeance at the 2016 Geneva Motor Show, this year the British car design house Kahn Design debuts a new convertible variant called the "Vengeance Volante."
Aston Martin's bonded aluminium and composite VH platform was once again used for the new supercar, chosen for its lightweight strength and torsional resistance. The luxurious vehicle is manufactured in the UK using traditional British coachbuilding techniques.
According to the automotive manufacturer, the car will be produced in limited numbers, and investors and collectors alike are invited to place orders early to avoid disappointment.
"Creating a convertible version of the Vengeance posed some challenges, given the unique coach built nature of the vehicle, but we've overcome them in true British fashion. Following a detailed programme of testing, I'm delighted to be able to unveil the Vengeance Volante at this year's show, and I'm confident it will receive the same enthusiastic reception as the original model did in 2016," said British automotive designer Afzal Kahn, the founder of the Kahn group of companies: Kahn Design, the Chelsea Truck Company and Project Kahn.
The Black luxury leather fluted front and rear seats have been handcrafted and stitched by Kahn Design's team of experts.
The Vengeance Volante's sweeping streamlined curves take inspiration from classic Aston Martin designs of the late twentieth century, swapping the contoured roof of the original Vengeance for a cabriolet hood, while retaining the distinctive widened C-pillars and wings.
Details such as the purpose designed crosshair exhaust system and rear lighting, as well as the lightweight sculpted wheels are a nod to the Volante's heritage.