Jaeger-LeCoultre x Marc Newson. The Atmos 568 Clock is Time, Pure and Simple.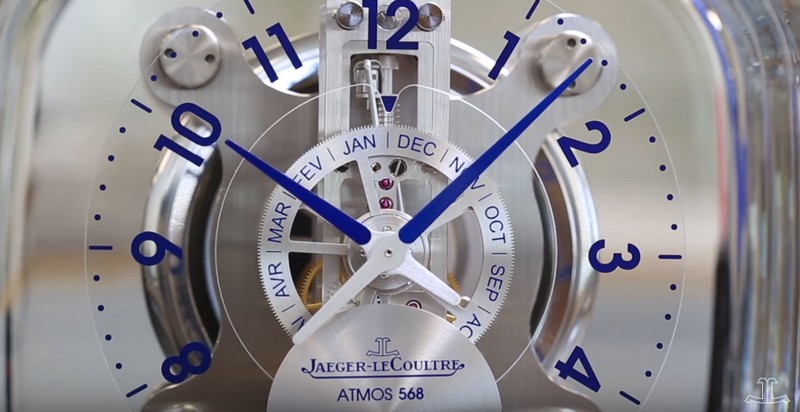 Jaeger-LeCoultre and designer Marc Newson have been teaming up three times to pool their expertise on the iconic Atmos, the clock which is able to function for a theoretically unlimited time, with nearly zero energy and human intervention.
The Atmos clock was born in the footsteps of Leonardo da Vinci, inspired by a dream that has guided watchmakers for centuries: to reproduce perpetual movement. This virtually perpetual mechanical movement houses 211 components. A variation of one degree in temperature is enough to power the Atmos for two days. Invented in 1928 by Swiss engineer Jean-Léon Reutter, it was developed and has been tirelessly perfected in the workshops of the Jaeger‑LeCoultre Manufacture ever since.
"Australian designer reinterprets the Atmos clock by reworking its classical style while preserving all its essential features, allowing an icon of watchmaking to become an icon of style. Unveiling its secrets little by little, the Atmos 568 will intrigue the gaze of connoisseurs of beautiful objects," Jaeger-LeCoultre explained.
In order for the light to shine directly on the Atmos without altering its colors, Marc Newson chose to use an "extra-clear" glass for the cabinet. Almost invisible, it offers remarkable transparency, which showcases the clock in an unprecedented manner.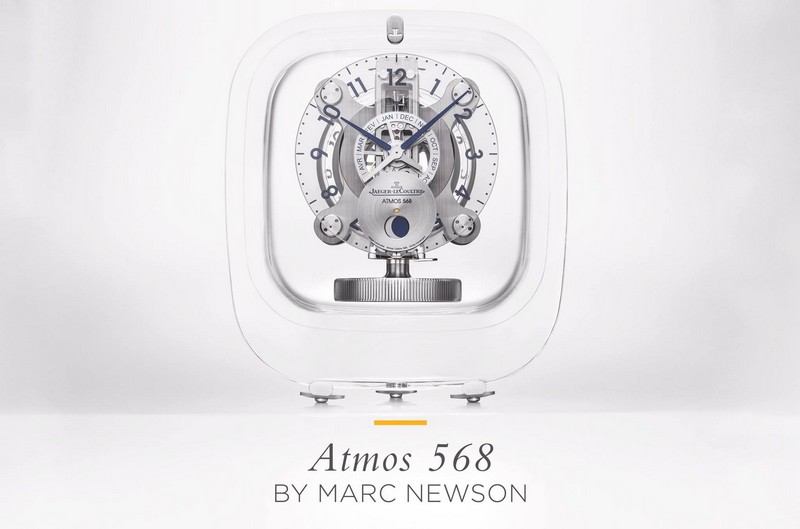 On both the interior and the exterior, fluid lines, the energizing use of color on the blue numerals, and two- tone hands are subtle messages that attest to the artist's unique style. When the gaze rests on the back of the movement, it discovers the designer's secret signature, the last stage in the journey.
Atmos cabinets reflect the times with style. Some of the first Atmos clocks feature an Art Nouveau style, showcasing opalescent glass engraved with floral motifs or a golden wood cabinet embellished with plant motifs.
The timeless Atmos has revealed itself to be a source of inspiration, a creative canvas. Alongside Jaeger‑LeCoultre, great designers have imagined limited editions of this clock. Thus, inspiration is re-invented from one era to the next. This is the case with Australian designer, Marc Newson, who designed several models in glass cabinets, giving the Atmos a contemporary design while maintaining its essence.
Jaeger-LeCoultre Atmos 568 by Marc Newson Technical Details (Reference 5165107):
Jaeger-LeCoultre Calibre 568;
Case: Baccarat Crystal;
Dimensions (WxDxH) : 265 X 230 X 147 mm
Functions: Hour – Minute – Month – Moon phases ;
Recto Hands;
Sword;
Movement: Manual-winding;
Pieces inside : 210;
Vibrations per hour : 120;
Jewels : 15;
Barrel : 1;
Height : 168.50 mm.