IT WILL BE HARD TO OVERSLEEP YOUR TEE TIME WHEN YOU'RE STAYING ON THE FIRST HOLE.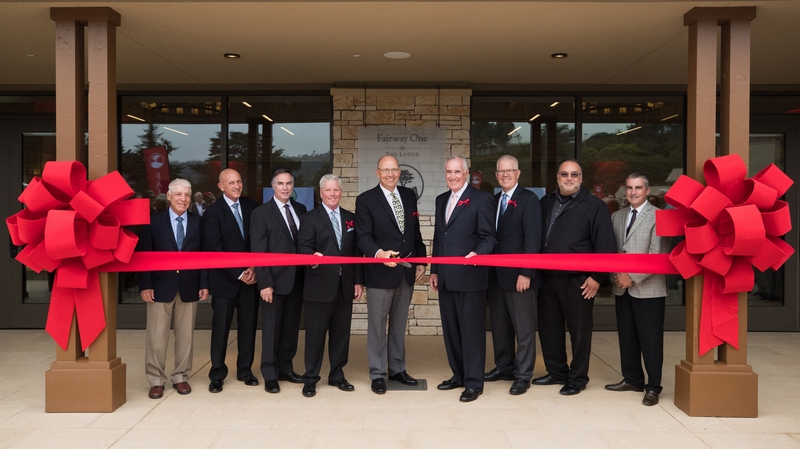 Pebble Beach Resorts has opened a stunning new guest room and meeting complex at the famed golf resort: Fairway One at The Lodge. These investments further solidify Pebble Beach's reputation as North America's premier coastal golf resort. Fairway One features 38 new guest rooms, including an entirely new offering at the resort – two stand-alone cottages, each with four bedrooms off a common living room. The complex also includes a separate meeting facility that offers sophisticated meeting space and other guest amenities overlooking the iconic first fairway of Pebble Beach Golf Links.
Fairway One represents a distinctive addition to The Lodge at Pebble Beach and just one of a series of significant enhancements underway as the resort prepares to host the 2018 U.S. Amateur and 2019 U.S. Open championships and ramps up for its own 100th anniversary celebration in 2019.
Located along the left side of the first fairway, Fairway One encompasses three two-story buildings with 10 guest rooms each, two four- bedroom golf cottages, and the Fairway One Meeting Facility anchored by a 2,500-square-foot meeting room – all with unrivalled views of the golf course, internal gardens, or the Pacific Ocean. Its stylish, understated interior design is the work of renowned international hospitality design firm Hirsch Bedner Associates (HBA), while the exterior building architecture is by local Monterey-based firm Fletcher + Hardoin. Outdoor hardscape and landscape design is by Bennitt Design Group of Long Beach, Calif. Swinerton Builders of San Francisco served as general contractor.
Fairway One offers Pebble Beach guests a new and enhanced guest room experience. Fairway One Cottages are named The Eastwood Cottage and The Palmer Cottage for two of the more famous owners and board members of Pebble Beach Company – Clint Eastwood and Arnold Palmer. Each cottage fronts the first fairway and features a 1,000-square-foot living room, two king bedrooms, two queen/queen bedrooms – all in a uniformly white architectural palette accented with rich earth tones and in keeping with the style and feel of The Lodge – and an outdoor terrace with fire pit. Living rooms have 17-foot-high wood-beam ceilings, rich wood millwork, and floor- to-ceiling stacked stone fireplaces, along with two 55-inch HDTVs, a wet bar, and a dining area. Groupings of oversized furniture encourage guests to gather and socialize.
The 30 Fairway One guest rooms are located behind the cottages. Starting at 660 square feet, they are significantly larger than a typical luxury hotel room. Large picture windows and terraces create a panoramic connection with the golf course and nearby Pacific Ocean. A soft neutral color scheme, with classic patterns and other details, evoke an elegant beachside cottage, and architectural lighting is provided in key areas by the HBA lighting design subdivision.
With Fairway One now complete, renovations will continue next winter at The Lodge at Pebble Beach. Enhancements have been completed in 98 guest rooms and were designed to maintain their timeless elegance. Renovated ocean-front rooms include window walls expanded by 30 percent to take full advantage of their views of Pebble Beach Golf Links, Carmel Bay, and the Pacific Ocean. Ocean- front patios and decks are also being doubled in size to serve as an outdoor living space. In all Lodge rooms, bedroom renovations include new furnishings and accessories, substantial bathroom upgrades, a signature fireplace wall, and the addition of air conditioning.
Among the technology upgrades are 55-inch HDTVs, new lighting, energy management systems, and state-of-the-art door locks. Building exteriors are receiving a fresh new look as well, enhanced by wood, stone, and stucco.