This new design study signals INFINITI's intention to evolve its presence in the large SUV segment.
Infiniti, the luxury vehicle division of Japanese automaker Nissan, intends to further develop its standing in the full-size luxury SUV segment. INFINITI's design studio in Atsugi, Japan revealed the first look of its QX80 Monograph mega SUV, a new design study exploring not just luxury, but "upscale luxury."
The QX80 Monograph is the first model from the brand to bear the "Monograph" nomenclature. Monograph studies explore ways INFINITI can develop specific elements of its cars.
The new concept demonstrates the high levels of space and utility for which the QX80 production car is renowned. The QX80 Monograph is the ultimate expression of futuristic luxury SUV design and illustrates how the design of INFINITI's QX80 could evolve."
"The QX80 Monograph represents a detailed study into our expertise of exterior design," said Roland Krueger, President of INFINITI Motor Company Ltd. "QX80 Monograph shows our concept of luxury and style on the road, and is an exploration into how we could enhance our future INFINITI offering in the luxury SUV segment."
QX80 Monograph incorporates a mix of geometric and organic shapes to combine power with elegance.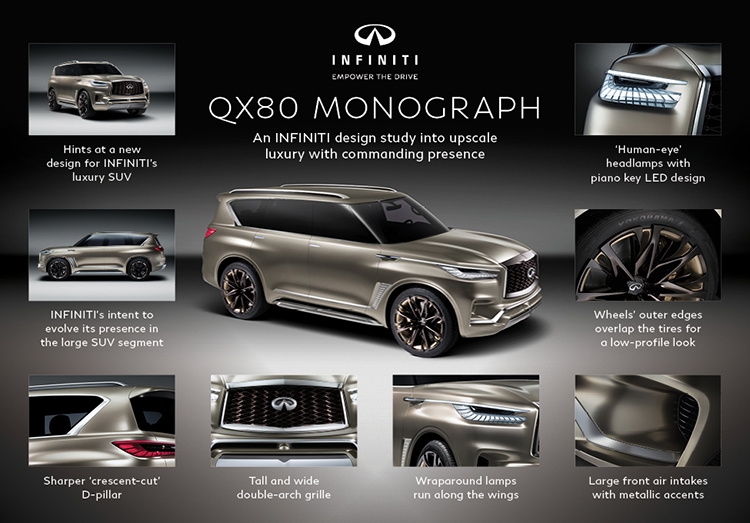 Unmistakable INFINITI signature design elements include the double-arch grille, which for this vehicle is taller and wider, creating a powerful new "face", while the crescent-cut D-pillar has been reshaped.
The QX80 Monograph features a frosted-effect paint finish, following positive feedback from recent INFINITI concepts completed with a similar effect. The desaturated color and satin-like surface each suggest an unusual treatment of the metal beneath, providing a textured contrast to the gloss chrome and brushed aluminum elements around the concept.
Straight-spoke, two-tone wheels – 24 inches in diameter – are finished in chromium black with contrasting brushed copper elements. The outer edges of the wheels overlap the tires, presenting the appearance of a 26-inch wheel and low profile tires to complement the scale of the QX80 Monograph.