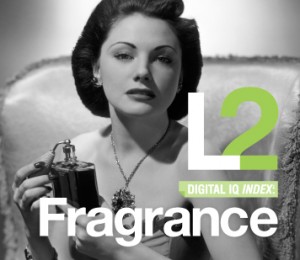 The first of its kind, the inaugural L2's Digital IQ Index: Fragrance report benchmarks the digital competence of global fragrance brands, looking at 350 data points across four dimensions: Site, Digital Marketing, Social Media, and Mobile.
L2's Digital IQ Index: Fragrance study attempts to quantify the digital competence of 63 fragrance brands, and, as always, provides insights and analysis of the extensive data covering 350+ data points. Though fragrance brands, on the whole, registered the lowest Digital IQ of any vertical L2 has measured, there were some strong performers and innovators. Of the 63 brands analyzed in this study, only three — Victoria's Secret, Burberry, and Ralph Lauren — were crowned digital "Geniuses." And of the 10 celebrity fragrances, just one, Justin Bieber's, cracked the top 10. For the rest of the best, see the list below:
1. Victoria's Secret (digital genius)
2. Burberry
3. Ralph Lauren
4. Lancome (gifted)
5. Clinique (gifted)
5. Dior (gifted)
7. Chanel (gifted)
7. Yves Saint Laurent  (gifted)
9. Justin Bieber (gifted)
10. Thierry Mugler (gifted)
10 Axe/Lynx (gifted)
"It is difficult to find an industry in consumer goods that has demonstrated less commitment to digital than the 6 billion dollar fragrance Industry. Relative to other prestige categories, the digital footprint of most fragrance brands is weak and uninspired, particularly among licensed brands," says the L2 report.
Amazon showed up 97% of the time in paid ads and fragrance.net showed up 87% of the time vs. only 6% for the brand itself. Two-thirds of fragrance sites still deploy Flash: invisible to search; slow to load; and absent from tablets.
One of the most interesting findings from the report involves the performance of in-house or "owned" fragrance brands and licensed brands. Owned brands (e.g., Chanel, Unilever), on average, earned 20 percent higher Digital IQs than their licensed counterparts, including those lucrative celebrity-affiliated fragrances. This can be explained, in part, because the vast majority of owned brands (83 percent) facilitate an easy one-stop shopping destination for would-be buyers, whereas only 36 percent of licensed brands do so. And while the celebrity of Justin Bieber, J. Lo, Britney Spears and Paris Hilton might help their pages garner 9.1 times more Facebook fans than the average brand page, their fan engagement is comparatively much lower. In fact, almost two-thirds of celebrity fragrance pages haven't posted new Facebook content in 30 days (versus 36 percent of non-celebrity brands).