In 1912 Jacqueline Hermès wears the first wristwatch ever created by Hermès. As a child Jacqueline could not wear a watch attached to her clothing or slipped into her pocket. Especially for her, her father devised an ingenious "porte-oignon" or pocket-watch holder designed to fasten it onto the wrist. Drawing upon the original harness and saddle- making know-how of the House, he created a leather strap similar to those worn by the Lads.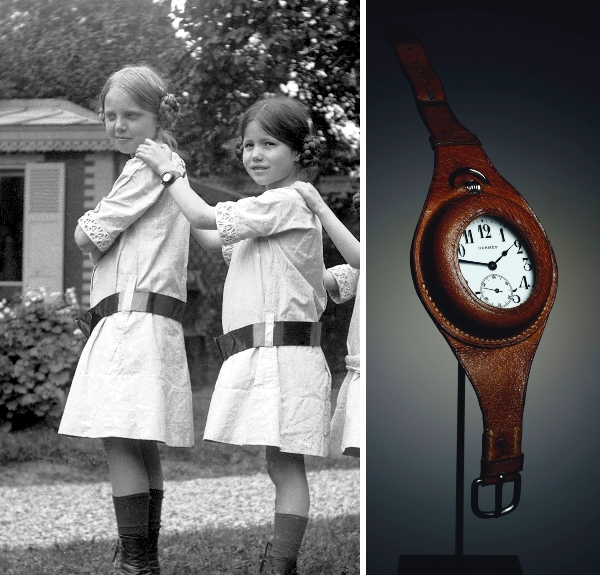 After 101 years, Hermes is paying a tribute to the original model with "In The Pocket" model limited to 24 pieces, exhibited at this year's Baselworld 2013 in Basel, Switzerland.
Crafted in palladium, a rare and precious metal, the watch features a curved 40 mm diameter, which extends to 49 mm
when it is worn on the wrist. In the pocket is composed of two separate parts: the boucleteau (the longer part attachedto the watch at 6 o'clock and in which the holes will be pierced) and the sanglon (the shorter part attached to the watch at 12 o'clock to which the buckle will be fixed).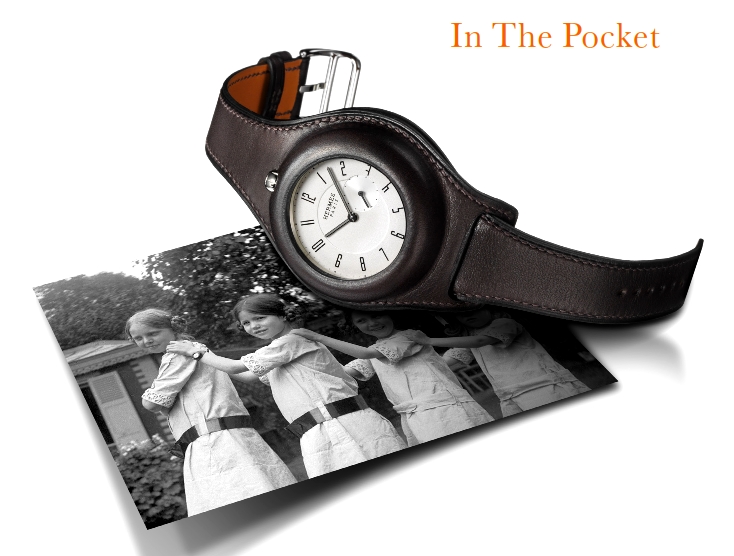 The longer and shorter parts of the strap are composed of three layers of leather: Barenia leather (an unfinished full-grain leather that is both natural and alive), an inner cow skin reinforcement chosen for its sturdiness), and a Zermatt calfskin lining.
The making of the watch involves several operations and artisan expertise. First comes the cutting process: cut and then split into two, the hides are soakedand then moulded in a die. They dry in this way for 10 days before being cut with a pointed tool, split again, sanded and glued. Each of the parts is then partially stitched. The longer part is perforated to free the space through which the dial will be visible as well as the slit through which the shorter part will be inserted and the hole through which the crown will emerge.
Then comes the "table" phase in which the shorter and longer parts are put together and then marked with a compass,hallmarked and sewn according to the saddle-stitch technique.
And at last it's time for finishing, which involves hammering the stitching, marking a furrow between the sewing line, dyeing and polishing with bees' wax.
Read about Hermes stand at Baselworld 2013 designed the famous architect Toyo Ito, the 2013 Pritzker Architecture Prize winner.