Krug Grand Cuvee x Potato.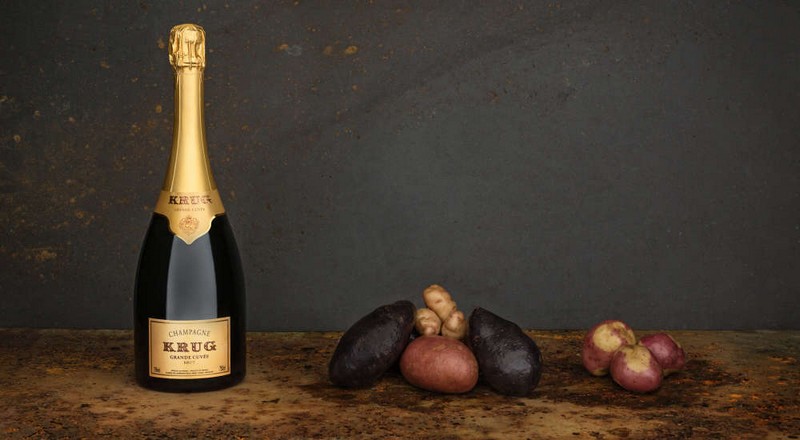 The edible tuber, the world's fourth-largest food crop, following maize, wheat, and rice, can make a good team even with the finest champagne.
To express the unconventional, creative spirit of Krug, the famed champagne house put a unique challenge to 15 world-renowned chefs. Dubbed "I say potato, you say potato" project, inspired and creative recipes transformed the humble ingredient into a stellar dish. The results were a perfect marriage with Krug Grande Cuvée.
"So it is with true delight that we celebrate an unexpected, but tasteful, marriage of Krug Grand Cuvée and the humble, yet noble, potato. An audacious pairing, perhaps, but one that remains loyal to the non-con-formist spirit of my ancestor. Our talented Krug Ambassade's Chefs envisage a completely innovative and imaginative approach to the tuber, making potatoes, in all their many varieties, the star of their dishes," explained Olivier Krug, Director of the House of Krug.
"The cunning simplicity of the potato allows these great chefs to unleash their creativity, proposing extraordinary dishes made with love, passion and dedication," added Krug.
Nine resurants and two wine cellars serving as Krug Ambassades are: Les Belles Rives à Juan les Pins, Le Château Eza à Eze Village, Le Royal Riviera à Saint Jean Cap Ferrat, La Paloma à Mougins, La Bastide Saint Antoine à Grasse, Le Cap Estel à Eze, Le Métropole, Le Maya Bay, L'Hermitage, Les Grands Chais Franco-Monégasques and Fauchon in Monaco.
To express the Champagne's pairing abilities in unexpected places, this July, Krug has partnered with chef Tom Sellers to devise Krug & Chips, a pop-up eatery themed around British chips.