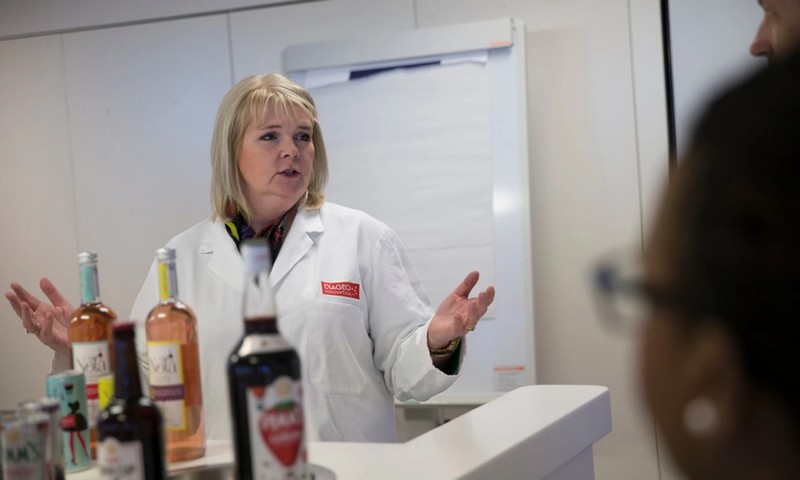 ---
This article titled "'I have the best job in the world'. Meet the alcohol alchemist" was written by Harriet Minter, for theguardian.com on Friday 7th August 2015 07.54 UTC
"I know you think you have the best job in the world," says Sian Anderson, technical innovation director at Diageo Europe, "but I have to challenge you on that. I have the best job in the world."
Anderson has been at Diageo for 22 years and heads up the lab where they cook up new products for the global drinks brand. Think Willy Wonka but female and more focused on alcohol than sweets. At the company's research lab she heads a team of scientists dedicated to finding the next big thing in drinks. Her offices are a cross between a traditional lab and a hi-tech kitchen. Rather than the cold, sterile environment you'd expect in a laboratory, it seems like a close-knit, collegiate atmosphere. There are cookery books on the shelves and beakers of multicoloured liquids along the benches. It looks like a lot of fun.
For Anderson, looking after her team and giving them a supportive and productive environment to work in is clearly paramount. Throughout our interview she keeps bringing them forward, letting them take credit for their work or pointing out an exciting project they're working on. As she says, it's more like a family.
"We invest a lot in training and personal development in all of our team … in an R&D department that means investment over many years supporting our people through different life stages. So, for example, if they want to gain experience in [another department or location] we support them as much as we can so they can return to us with different perspectives, enriching our work. In fact, we are just organising for one of my team to work for R&D in Singapore and another to gain experience in Supply in Scotland … One of our team even took a year sabbatical to teach school children in science."
Anderson originally studied home economics, thinking she'd go off and be a teacher. Instead, at the end of her degree she undertook a research and development project. Creating a new product had her hooked and she's been doing it ever since.
As well as looking at current trends, customer behaviour and what her sales teams need, Anderson also brings in inspiration from other parts of her life. She's about to undertake an interior design course and wants to do another in cordon bleu cookery. She watches cookery shows to see what celebrity chefs are doing with flavours and tries to bring all of this back into the life. She seems to completely understand how to blend not only drinks but her work and home life.
"Over my many years at Diageo my manager and the company have supported me in my personal growth and development … whilst I have brought up my family, working shortened hours and ensuring I have a great work-life balance. I believe this is crucial for a sustained and rewarding career."
She adds: "Part of a company training course helped us understand "What makes me personally motivated and why do I get up in the morning?' For me this boiled down to a purpose of – grow my family, grow my team and grow myself. When I first did the exercise I just focussed on the first two but actually my manager pointed out you can't grow others unless you grow yourself. We often forget that we have to make time for our own personal development, in order to help grow others."
She's passionate about bringing more girls into science. Coming from a family of teachers she clearly feels that the most important thing is introducing kids to science in a supportive and inspiring environment. "We have to show girls that science is inspiring and creative … what we do here is a mix of science and creativity. You need both sides."
You also need patience. Creating a new product from scratch can take years and hundreds of formulations. Developing Bailey's Chocolate Luxe "took two years and many formulation attempts to get the exact taste to mimic a delicious chocolate experience…
"In science we need to embrace what doesn't work as well as what does. That is part of learning … and in fact, knowing why something doesn't work is just as important a part of the process as knowing why it does. It's also about collaboration and learning off each other. There is so much knowledge and experience within the teams and we always help each other out. If something isn't working we'll bounce ideas off each other as to what else we could try."
An environment where it's OK to fail, the opportunity to scale your career up and down as you need to, and a job requirement to taste as you go, maybe she does have the best job in the world.
guardian.co.uk © Guardian News & Media Limited 2010
Published via the Guardian News Feed plugin for WordPress.