Fabergé Diamond Jubilee egg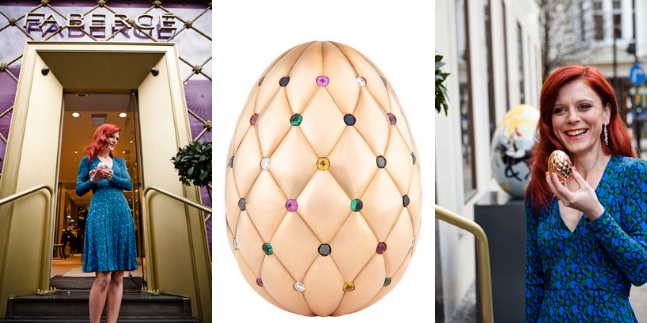 The Fabergé Big Egg Hunt is now underway in London. It started on 21 February 2012 and will end on 3 April 2012. During this time, the streets of central London will host the largest egg hunt the city has ever seen. In excess of 200 eggs, each around 2½ foot in height and decorated by designers and artists, will be 'hidden' around central London. Each egg holds a unique code word which, when texted to the number provided via SMS, provides one entry to win the prize, the Diamond Jubilee Egg by Fabergé.
Crafted with precisely 500 grams of rose gold, the design of this one-of-a-kind prize is based on Fabergé's much loved
Matelassé jewellery collection. It features 60 gemstones – one for each year of Her Majesty The Queen's reign – set in the
pleats of its quilted rose gold surface and comprising diamonds, emeralds, rubies and sapphires.
The Diamond Jubilee Egg, valued at £100,000, is the supreme prize in the world's most prestigious Easter egg hunt – The Fabergé Big Egg Hunt.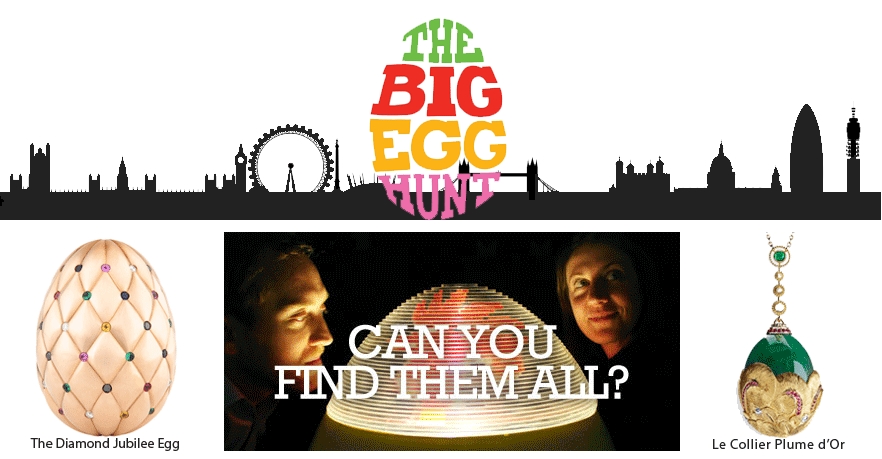 The Diamond Jubilee Egg will be on display at Fabergé's London boutique at 14A Grafton Street, W1S 4ET from 21 February until 1 April, and then at Harrods in Knightsbridge from 2–8 April
Fabergé has also specially created 'Le Collier Plume d'Or' – a magnificent one of a kind emerald and gold pendant, crafted
around a ravishing emerald cabochon of 127.76 carats, and which will be auctioned for charity on 20 March 2012.
The Fabergé Big Egg Hunt seeks to raise one million pounds for each of two deeply deserving charities: Action for Children and The Elephant Family
The hunt celebrates and explores the exhilarating creative talent of a myriad of artistic disciplines ranging from architects to product designers, fashion houses to jewellery designers and artists to artisans. Participating artists and designers include Sir Peter Blake, Candy & Candy, the Chapman Brothers, Theo Fennell, Zaha Hadid, Nicky Haslam, Mulberry, Gordon Murray, Bruce Oldfield, Robinson Pelham, Marc Quinn, Sir Ridley Scott and Dianne von Furstenberg.