Our home is our pride and joy. We spend a lot of our time in them, and they are a reflection of our success and personality when family and friends come over to visit. Unfortunately, most of us will find something that we would like to change and improve in our homes, but we never get around to doing so. This could be because you have been too busy, you haven't been able to afford it, or maybe it was good enough as it was.
Whatever it may be, most of the changes we do want to make are to improve how luxurious our homes are. This makes them more of a pleasure to spend time in and also makes you proud to show off something that you have worked hard for. If you would like to make your home more luxurious, read on for some helpful tips.
The Entrance Hall
The entrance hall is the first part of your home that you and your guests will see. You may not spend much time here, but making it look grand and luxurious will give everyone a great first impression of your home. The first thing you can do is declutter the space. This will make it appear bigger and more spacious. You could add a grand light fixing in the hallway, just make sure it suits the style and shape of your hall. With the stairs, you could update the bannister to a glass version. This will make your staircase look more modern and larger, but you should make sure this update works well with the rest of your home. Finally, a layer of paint will keep your hallway looking tidy and fresh.
The Living Area
When you have some free time to relax, you will most likely do so in the living area of your home. This area will also be an important place to socialize. To make your living area more luxurious, you should invest in good-quality furniture. If the room is large, then you should look at getting equally large furniture. If you have a smaller room, then finding a way to incorporate seating without making the room appear smaller and cluttered is highly advisable. You should invest in a good television and sound system. If you have hard flooring in your living area, then an expensive rug can be a great addition to the room.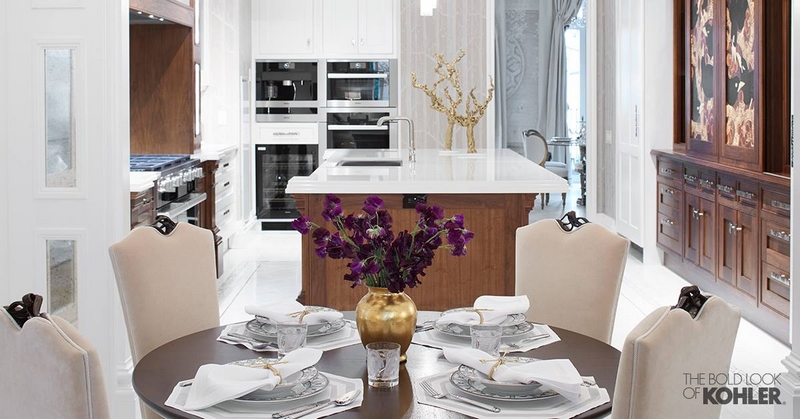 The Kitchen
If you love to cook, then the kitchen will be a huge part of your home. Nowadays, an open plan social kitchen is highly desirable. These are great for those with large families and who invite guests over regularly, as you can cook, eat and relax all together in the same room. As you may have guessed, remodeling or extending your kitchen so you can have a social area within is a highly- effective way to making your home look more luxurious. Keeping the kitchen up-to-date with all the newest and most efficient appliances and replacing any old units or flooring will play a huge part in improving your kitchen's appearance. In the dining area, a large table that can fit many guests is recommended.
The Bathroom
One of the best things about a bathroom is that there are so many features you can add to it to give it the wow factor. Considering a bath replacement or bath remodeling is the main step to making your bathroom more luxurious. A nice bath is essential for those who like to unwind in the water and they are a key feature of a bathroom, but it can be difficult to enjoy them if you are elderly or have a disability. If this is something you can relate to, then you should consider these walk-in tubs by American Vision Baths. American Vision Baths offer a lifetime warranty on all products, which includes these walk-in tubs, normal baths and showers, which is ideal if you plan to upgrade your bathroom.
The Bedrooms
Each bedroom will require a different style. If you have children, then they should be able to have a say in what their bedroom looks like, but doing things like picking out decent furniture and sticking to a color scheme within that room is important for maintaining a luxurious feel to your home. When it comes to your own bedroom, having a large and expensive bed frame will instantly make your room look grander. If possible, you should design your room so there is a separate dressing area. To boost your bedroom's appearance, you should look at installing a Juliet balcony. These are safe and easy to do and can do a lot for the bedroom's appearance.
Obtaining a luxurious home will take time and effort, especially if you are on a budget. However, with patience and persistence, there is no reason why you can't achieve this level of luxury and once you get there, you definitely won't regret it.